My mother died when I was thirteen years old. I've read a number of books on the subject and discussed it at length with all manner of people and I've come to the conclusion thirteen is a very difficult time to be a motherless daughter. My father did his best raising me and I had a lot of women who stepped in to try and be a role model. But, despite all these wonderful real people, it was perhaps easier for me to find a maternal substitute in the fictional character Dr. Beverly Crusher of Star Trek: The Next Generation fame. Easier because I was not replacing anyone, I was not choosing anyone and because Dr. Crusher very easily lived up to my expectations. And when she didn't? Well after all, she was just a character in a story.
I was drawn to Beverly for a number of reasons. She was a doctor as my mother was a nurse and they both had red hair and the temper to go with it. And I'd watched Star Trek since I was very young; in fact I'd been against TNG when it first premiered. I was a typical stubborn eleven year old and I refused to watch. But fate intervened and flipping around channels I stumbled upon the last fifteen minutes of Datalore. Assuming you are not an obsessive Trekkie like me I will explain that in the last fifteen minutes of that episode, Dr. Crusher talks back to the Captain, is both supportive of and firm with her son, figures out the mystery and takes on Data's evil twin all alone coming at him like a lioness with a phaser snarling in defense of her son. In that instant I was hooked on both the show and the doctor.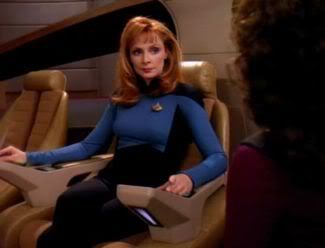 Dr. Crusher, as it turns out, was a pretty good role model. Yes, she had a typically 'female' job on the ship but she was in the command chain — could, and in fact did on more than one occasion, relieve even the Captain of duty. In the horrific second season she was not on board the Enterprise but ran Starfleet Medical. In the final episode of the series she is shown in command of her own ship. And throughout she raised a son, a brilliant and thus often troubled son, on her own. And never once is she seen in one of the micromini-and-go-go-boots get-ups (not that clothing takes away from role-model-ness but it does create controversy). She was a hero, she was my hero; a caretaker, a commander, she even danced. I wanted to be like her when I grew up.
Four years later I went to university at Brandeis (Gates McFadden's alma-mater). I was a Dance major and a Women's Studies minor. Women's Studies, like African-American Studies, Asian Studies or Jewish Studies, being one of those fields that (as a feminist) I almost think shouldn't exist. It is the study of history, sociology, philosophy, psychology, the arts…all from a feminine perspective and that it does exist simply means the standard fields of History, Sociology, Philosophy, Psychology, the Arts are all actually History, etc. of the White Christian Male. But my point here is not to redefine fields of study at university but to introduce my new monthly topic of note:
The Quest for Strong Female Role Models in Comic Books
I know. It needs a catchier title. But it references my earlier study at Brandeis. My final project for my Women's Studies minor was entitled (I bet you can guess) : The Quest for Strong Female Role Models in Comics and Animation. It was ambitious then and now. Not for lack of SFRM, they exist. But just as in a perfect world Women's Studies wouldn't be available as a study, in a perfect world there would so many SFRM, and they would be so obvious, the topic would be boring.
So here's the plan. Every month I will profile a new female protagonist from the pages of a comic book. I'll discuss her in terms of history, sociology, philosophy, psychology…you understand by now. I'll touch on relationships, occupations, roles, and of course, costumes. I'll share my thoughts and I'll ask for yours. In twelve months we'll have a calendar.
I'll end — and begin — by defining my parameters.
The Quest: I, and hopefully you along with me, we are embarking on a journey. A search. We're looking for
Strong Female Role Models: Female should be obvious. Role Models are those that inspire, people we look up to, people we want to be, people we want our daughters to be. Strong means in spirit, not just physical might, someone who stands for something. Someone found in
Comic Books: If you don't know what we mean by comics I am not certain why you are reading our blog! But comic books are stories told as narrative artwork — in pictures and word balloons. I will pull from as many different stories and publishers as I can.
There you go. I am excited. I hope someone out there is, too.
Posted by Anika
email: anika@fantasticfangirls.org
twitter: magnetgirl