In Q & A, a weekly feature of Fantastic Fangirls, we ask our staff to tackle a simple question — then open the floor to comments. This week, our question was submitted by reader Aaron Kimel:
What is your favorite comic book romance that should have happened?
---
Anika
The social structure of bats varies, with some bats leading a solitary life and others living in caves colonized by more than a million bats. The fission-fusion social structure is seen among several species of bats. "Fusion" refers to the grouping of large numbers of bats in one roosting area and "fission" is the breaking apart and mixing of subgroups, with individual bats switching roosts with others and often ending up in different trees and with different roostmates.
The "Bat-Family" is so named because Batman is the sun they all revolve around. Batman does not allow himself to have a personal life ostensibly because it interferes in his mission but in reality, or so I believe, because emotionally and psychologically he is stuck at 10 years old. However, the Bat-family IS a family. Bruce claims to be alone, and to prefer it that way, but he does allow himself to have a "family" in Alfred, Dick, Tim, Lucius, Barbara, Jim, Cass, Selina, Clark, Diana. . . He has personal relationships despite his stance on a personal life. He just doesn't really know how to deal with them because he's stuck as a tween boy and the only part of life worse than tween boyhood is tween girlhood because it is when we learn how to build relationships outside of the provided family/social structure (remember how in elementary school you are required to give everyone in class a Valentine but in middle school you may choose who to give them to?). Bruce doesn't know how to do that and he uses "Batman" as an excuse not to bother learning.

Zatanna is a performer, a superhero, and a Gothamite, and as such she knows, and can deal with, both Batman and Bruce. She understands having a dual personality, she was raised with the mindset, and she can and has stood up to Bruce's "I am Batman and nothing else" mentality. Unlike a civilian, she can take care of herself, and she's neither criminal nor crazy. This puts her ahead of the great majority of Bruce's long list of love interests. She has a non-superheroing career that would grant him space when he (or she) needed it and the juxtaposition of a idealistic rationalist with a pragmatic magician would keep everyone on their toes. Finally, Zee befriended him before he was Batman. She's the tween girl to his tween boy and all the years in between serve to make the connection stronger. She is perfectly poised to reach him. . .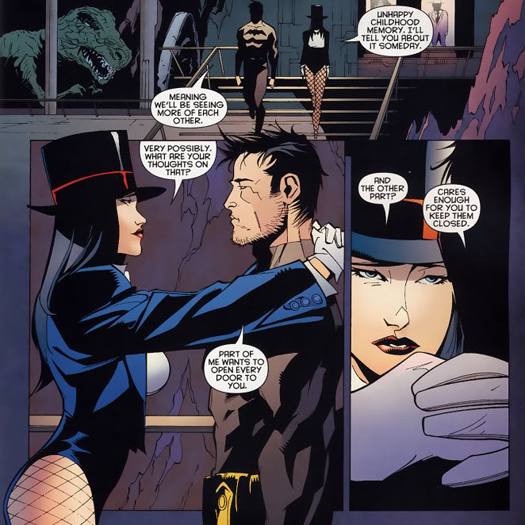 . . .if he ever let her.
---
Caroline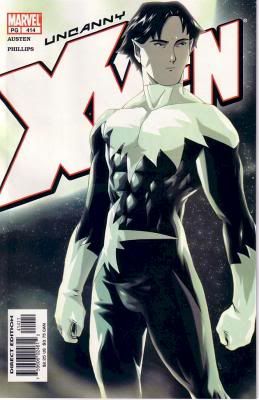 Fans of the X-Men do not have a whole lot to thank writer Chuck Austen for, but I am a fan of the way he took Northstar (Jean-Paul Beaubier, the famously, openly gay superhero) and gave him an important role on an X-Men team. Austen didn't stop there. He also gave Northstar a crush on founding X-Man Bobby "Iceman" Drake. Just a crush, of course. It couldn't ever amount to anything because — as JP was fond of dramatically wailing — Bobby was straight. Bobby, meanwhile, professed never to notice that Northstar was gay — which, since Northstar's characterization in this period largely consisted of, "Hey, I'm the gay X-Man! Look at me, over here, being gay!" seems like an amazing act of what lawyers call "willful blindness," even for a comic book character.
Someone in this scenario might have been protesting too much. That's all I'm saying.
Any Northstar/Iceman possibilities in the Austen era died when Jean-Paul did. He's alive again these days, though (no I don't remember how or why), he's back with the X-Men, and I'd kind of like to see Marvel take a stab at this 'ship for real. (Yes, he's been portrayed as having a steady boyfriend, who may even have a last name by now, but as Anika is fond of saying, "My pairing is more meaningful than canon.") As for Bobby, the character has been around for a lot of years without having an overly-explored inner life. He's had a few relationships with women, but nothing, I think, that would preclude an interpretation of the character as bisexual or even closeted. Jean-Paul's recent stories have hinted that he's growing from self-promoting arrogance into a more mature social conscience, while Bobby's have often been about growing up and exploring the potential for power and self-discovery beneath the surface of his boyish playfulness. There would be a lot to explore in a story about these two personalities, particularly in the context of how the mutant metaphor reflects both being out and being seen as different.
Plus, you know, they're both really cute.
---
Jennifer
My dislike of Emma Frost is well-known. So is my dislike of her relationship with Scott Summers. But the one time I actually liked Emma — beyond the excellent character writing Joss Whedon gave her in Astonishing X-Men — was when she was involved in a flirty, high culture-based almost-relationship with Hank McCoy, the Beast.
Hank's crush on Emma was one of the more intriguing parts of Grant Morrison's run on the X-Men. He was attracted to her wit and intelligence, her love of opera and fine wine and education and good books; they were a good match, as far as interests went. And, since he wasn't on the X-Men team during the bulk of her villainous years (the 70s being his Avengers and Defenders days), he didn't have the same level of justifiable resentment toward her that many of the other X-Men had. Hank and Emma's friendship was a solid rock amidst the chaos of the Morrison years, and when the psychic affair between Scott and Emma was revealed, Hank's first instinct was to bring Emma flowers and wine and a book to comfort her. And when he entered the room and, instead of a distraught friend, found her diamond form shattered in a million pieces, he immediately set out on an impossible quest to put her back together.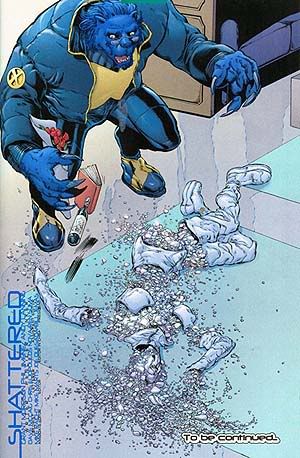 Whatever issues I may have with parts of that storyline (including Hank's bizarre decision to comfort Emma when two of his best and oldest friends were going through a messy breakup of which she had been the partial cause), it's obvious Hank was in love with Emma. And I think that the two of them together might have been really good, and really interesting. Hank is probably the best boyfriend in comics, considerate and romantic and charming, and his willingness to accept Emma without judging her would allow Emma to let down some of her many, many shields. Emma with Hank would be happy, and his influence might soften her — not so much that she wouldn't still be Emma, but enough that she wouldn't be so bitter and resentful, taking her aggressions out on students and teammates alike. Hank, meanwhile, would have a girlfriend with whom he could share his cultural passions, and one with whom he could, conceivably, engage in intimacy on the astral plane, where he wouldn't have to be a furry blue cat. A Hank-Emma relationship would benefit both characters, and I truly wish we'd been able to see their chemistry evolve into something more.
---
Sigrid
Sometimes I have a great deal of trouble remembering that certain romantic and sexual relationships in comics have not taken place. This is due, in large part, to reading comics in the 1980s. During this time period gay, lesbian, and bisexual characters were not visible in Marvel and DC comics. They were present, but were coded. You could see what you were looking for, if you knew to look for it. Moreover, sexual relationships of a dark or disturbing nature were also hinted and coded, perfectly deniable in an official canon. But the writers and artists put things in that raised eyebrows to those with a mind to see the hints.
So, that said, my favorite comic book romance that I am CONVINCED happened, and if pressed will start hauling out old issues of comics and waving them about in a vaguely disturbing manner as evidence, is Kitty Pryde and Rachel Summers of the X-Men. It's the stuff of movies, or at least myth.
In Rachel's timeline, Kitty Pryde saved Rachel's life. Rachel, emotionally stunted and damaged by her childhood as a Hound, fixated on Kitty as a trusted person. When Rachel slipped back and over to our timeline Kitty was the person she most trusted. Rachel would have done anything for Kitty, and in fact did some things that were pretty bad ideas. Rachel's love for Kitty was not that of a whole person, not healthy. And I am pretty sure Kitty wouldn't have returned it at that point. But the two of them lived and worked together for an unspecified period of time during the run of Excalibur. Rachel grew, well, not completely better, not whole, but less broken and more functional. Their relationship developed into one of mutual trust and care and respect. I think it's perfectly clear that the two of them likely shared some sort of romantic or sexual relationship at this point, though probably not a very serious one. Much later, after Kitty's rescue of Rachel from Bogan in X-Treme X-Men, Kitty was out to herself as bisexual. (After the events of Mechanix.) The two of them occupied the mansion after the team shake-ups, living in nearby rooms while working on different teams. It's during this timeframe that they were clearly dating.
Like I said. Don't ever get me drunk and ask me about the relationship between Kitty and Rachel, because I'll tell you about it. At great, great length.
---
What is your favorite comic book romance that should have happened?