In Q & A, a weekly feature of Fantastic Fangirls, we ask our staff to tackle a simple question — then open the floor to comments:
What comic would you like to see made into a musical?
---
Anika
It's not Spider-Man. The problem with Spider-Man, and most superhero-comic-book stories, is there is no "finale". It just keeps going. And the origin story can only be told the same way so many times before it loses all the magic that makes it worth telling in the first place (sorry, re-boot, but that's how it is). Obviously, adding music makes it different but it doesn't solve the problem of no clear ending or arc (something required of mainstream stage shows). I don't want the Spider-Man musical to fail but I think all the trouble it has had coming together is indicative of the issue. It's like my idea for a Spider-Man themed zip-line ride through Manhattan: theory? AWESOME. Execution? IMPOSSIBLE.
The stand alone stories would be easier to adapt and the one that springs to mind is: V for Vendetta. Already theatrical, already verbose and lyrical, self-contained, controversial, and familiar but not so familiar it is tired. There is a built-in comparison to The Phantom of the Opera and I can imagine the opening looking something like the video for Alejandro.
Basically it would be AMAZING.
---
Caroline
For years, people said that Alan Moore and Dave Gibbons' great comics series, Watchmen, was unadaptable — and more than a year after a big-budget Watchmen film was released, a lot of people still feel that way. And, even though I am more or less a fan of the Watchmen film, I think there's a point to this. It's not that the story is unadaptable, though; it's just not that suited to adaptation as a standard Hollywood superhero movie. The point of a superhero movie is taking a rather fantastic story and making it literal. As the poster for the first Superman movie promised: "You will believe a man can fly."
But any attempt to literalize Watchmen misses the point. The whole aesthetic of the comic comes out of grafting realistic, and often unheroic, human behavior onto the hyper-real aesthetic of a superhero comic. A more effective method of adapting the story would have been to transfer it from one hyper-real medium to another. . .and what, my friends, is more hyper-real than the rock opera? I half-suspect that's where the folks at Warner Brothers would have liked to go with Watchmen. They pretty much showed their hand when they decided Ozymandias was basically David Bowie:
I'm not being facetious about this. I would really love for this musical to exist. Imagine the comic's complex backstory condensed into the "Minuteman Tango". Imagine Rorschach's dance-off with his prison psychiatrist. Imagine, most of all, Ozymandias's show-stopper: "Thirty-Five Minutes Ago." Don't thank me for saving your franchise, Warner Brothers. Just send money.
---
Jennifer
One of my first posts on this blog was an essay comparing comics and musicals, and discussing the high percentage of crossover fans. Musical theater was my main fandom before I discovered comics, and I still adore it. But I've never been too enthused about the idea of the two things being combined in a meaningful sense. The things I love most about superhero comics — lengthy, tangled backstories, huge universes of characters, open endings– are exactly the things that would be impossible to translate to the stage.
But I do think there are ways to meld the two media, and one of those ways is going back to the Golden Age roots of each. The combination of old-school, Rodgers and Hammerstein-style musical theater with Golden Age comics characters and plots would double the nostalgia factor and give license for the inherent absurdity of both. I'm not suggesting the musical should be a parody — and if there's mockery at all, it should be light and loving, like The Drowsy Chaperone. But mostly I'd just want something fun, lighthearted, and heroic. And since I'm me, and I'm a Marvel girl at heart, I think the focus of this play should be on Marvel's Golden Age characters — Captain America and Bucky, the Human Torch and Toro, Namor, Union Jack, Spitfire, Miss America, and any others the writers wanted to rustle up. In other words, what I really want is The Invaders: The Musical.
---
Sigrid
I like most musicals, and I like most comics, so narrowing the field down is a huge problem for me. But, as the characteristics of comics I like the most are drama, relationships, high emotions, and near-death experiences; and, as the qualities of musicals I love are witty dialog, insight into the human condition, and high emotions, I think I can find a match.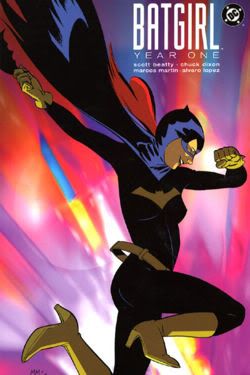 Batgirl: Year One
Book by Jane Espenson and Stephen Sondheim
Lyrics by Stephen Sondheim
Music by Stephen Sondheim and Michael Giacchino
Adapted from the DC comic by Scott Beatty and Chuck Dixon
This story has everything I like — personal development, action, intense relationships — without requiring too much in the way of super-powered effects. The show would be incredibly athletic, with aerial work, great stage fighting, and some highly-charged dance numbers. With Espenson and Sondheim writing the book, the pace would be fairly quick. And Sondheim's lyrics would capture the wry tone of Barbara Gordon while maintaining the enthusiasm and freshness of the story.
---
What comic would you like to see made into a musical?