In Q & A, a weekly feature of Fantastic Fangirls, we ask our staff to tackle a simple question — then open the floor to comments:
What comic book villain would you like to see in the movies?
---
Anika
Since I first saw these images of Liam Neeson and Diane Kruger filming Unknown White Male all I can think is:

Talia.
I have always found Talia Al Ghul far more interesting than the rest of Bruce Wayne's love interests/enemies(/allies) — yes, even Selina. In fact, especially Selina. As I expect you know by now, "little girl raised by a sociopath" is one of my favorite backstories and Talia's connection to Bruce via her father is simply much more poignant and dramatic to me. Especially in the Nolanverse. It seems almost too obvious for Talia to show up and exact her revenge but then, only to those of us who know who she is. Which I'd venture to guess is not the majority of the crowds who showed up for The Dark Knight. Even if it is obvious, it is what should happen — Bruce chose not to save Ra's and that choice has consequences. I would dearly love to see them played out through Talia.
And it is worth saying that a woman in the role of primary antagonist, even as she would also be the love interest, would be very welcome and as heir to the leadership of the League of Shadows, Talia has the means to be in that position.
And I'm not saying Diane should play her, but :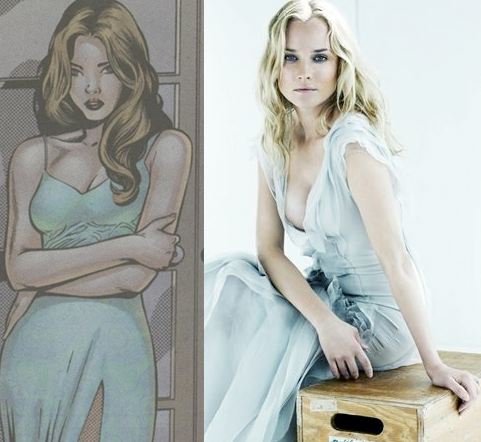 ---
Caroline
Some of my favorite comic book villains have been the ones whose strategy involved turning the heroes against themselves. Bad guys who make the good guys project their worst fears and then overcome them. It's an idea that's been used over and over, to the point of cliche, but good creators can still get a lot of mileage out of the device. And when you factor in actors in a live action movie setting, there's even more potential to develop.
That's why I would love to see an X-Men movie use the character of Proteus. This character had the ability to manipulate and alter reality, and he used it to defeat his victims psychologically, in a classic X-Men story, and more recently in the ongoing X-Men: Legacy series. The point of a villain like that is not the villain himself, but what he reveals about the characters. Some of Marvel's recent franchises have tended to lose the sense of character and motivation at the expense of bigger, louder fights, and this kind of story might be just what it would take to recenter the X-Men franchise.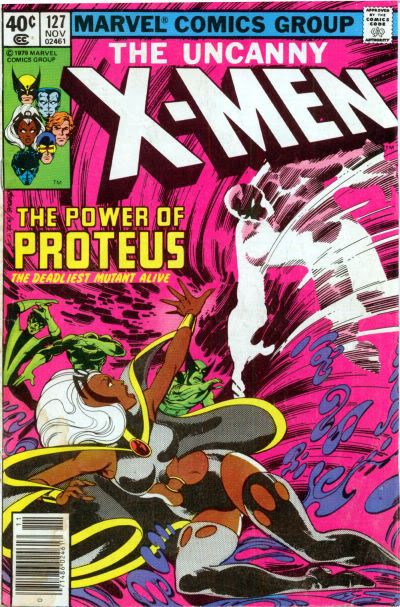 Also, I want Joss Whedon to direct it. And I want a pony.
---
Jennifer
I wasn't a big fan of Kick-Ass. But despite my distaste, I find myself hoping its relative success with certain demographics will pave the way for more superhero movies adapted from lesser-known, creator-owned properties. Because the comic book villain I would love to see — a villain who is, in many ways, the protagonist — is The Plutonian, star of Mark Waid's Irredeemable.
In Irredeemable, The Plutonian is a Superman-esque figure who has seemingly had a complete mental breakdown and has begun using his powers to destroy everything in his path. The comic is a fascinating deconstruction of the superhero's psychology, an analysis of the pressure of being near-omnipotent (but NOT perfect) and the ways it might affect a human being. But unlike the more nihilistic, cynical viewpoints on superheroes found in books like Kick-Ass, Irredeemable also features flawed heroes who still want to make things right for the world, and may have the power to do so. This cast of heroes balances out the villain-protagonist, and it all adds up to multi-layered portrait of what superheroes, and villains, could be. The Plutonian could go down in history as one of the great comic book movie villains, and I'd love to see him get the chance.
---
Sigrid
Well. I want a Birds of Prey movie — and let us please forget that the appalling television show (which I own on dvd) ever happened — that is set in the new Christopher Nolan Batman universe. And while I want Oracle, Huntress, and Black Canary on the big screen being incredibly awesome, I'd like to see them fighting Calculator, with Creote and Savant working for him.
This sounds like a slightly out-of-left-field call, even to me. I mean, these are not classic villains. But I was thinking over the question and trying to figure out what villains would transfer well to the big screen. I don't want to see Spiral, from the X-Men titles — I don't want to see her digitally-added arms looking weird. I'd love to see Dark Phoenix in some upcoming X-Men reboot, but we already had that. Ditto Magneto — and I don't think I can imagine anyone out-Erik-ing McKellan. A lot of the classic villains have been done already, or are impractical.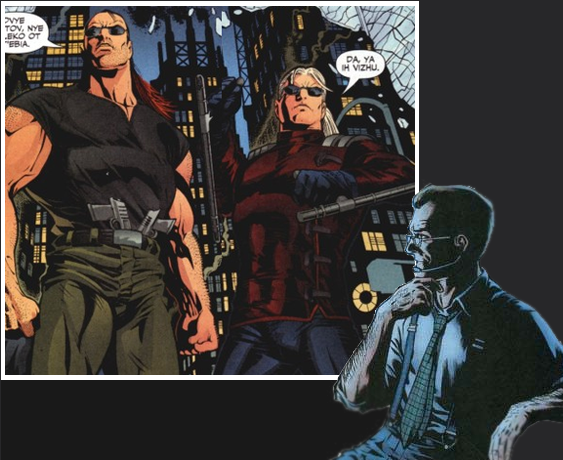 Calculator, Savant, and Creote are all human-sized and human-shaped. Their powers are good, but human-scale. They all have larger-than-life personalities that could be memorable and light up the screen. As a trio of villains they could seriously challenge the Birds, which I'd like to see.
---
So what about you? What comic book villain would you like to see in the movies?