We started our Comic Book Club conversation about Strangers in Paradise yesterday, talking through our first impressions, including some of favorite and least favorite characters. Today, we continue by discussing the idea of SiP as a "gateway" comic.
Sigrid: Strangers in Paradise is one of those comics you always see on the Girlfriend Lists. You know. Those excruciatingly irritating, "How do I get my girlfriend to appreciate all my erudition on comic books so I can continue to get laid?" lists.
Ahem.
I, of course, mean to say, "How do I get my girlfriend to read comics?" Those lists. Anyway, SiP is always on those lists. Presumably because it is about women and relationships, not energy blasts. (I, personally, like my relationship comics to also be energy blast comics. This is why New Avengers is one of my favorite series of all time. Ditto Birds of Prey. Relationship stories and energy blast stories work very well together, thank you very much.) Yet . . . yet the plots of SiP tend to involve murder, the mob, contract killers, and alternate futures. How is this much different from Invincible, or Powers?
What do we think of the first volume of the Pocket edition as a gateway drug?
Anika: Okay, first of all, we should never compare comic books to drugs but certainly not in the context of asking someone we care about to give them a chance. No one outside of the comic book fandom or industry is going to appreciate the genre so long as those of us inside of it show so little pride in them. Suggesting a comic book to a loved one should be no different than suggesting a novel, a movie, an album, a television series, or even an opera or ballet. It should hinge entirely on what you want to share with them. It should not be phrased as sharing an addiction.
Second, if the idea is to get this person interested in New Avengers or Birds of Prey, I think Strangers in Paradise is a bad choice! Caroline and Jennifer both did not know how to read it; I only knew because it reminded me of manga. It would be like wanting to get someone into watching CSI with you by watching a Law and Order marathon. Sure, they are both crime dramas, but they are presented very differently. CSI is more serial and Law and Order self-contained. Your girlfriend would be confused by how colorful CSI is and how everything takes place in one week's time — she would want to know where are the bom-boms that indicate a new scene? And even if she ended up absolutely loving Law and Order, that's no guarantee she would have any interest in CSI — so when you ask her to watch NCIS, she'll look at you funny, and when you bring out Fringe, well, you have no chance at all.
If you think your girlfriend will like Strangers in Paradise, share away. But not as a drug.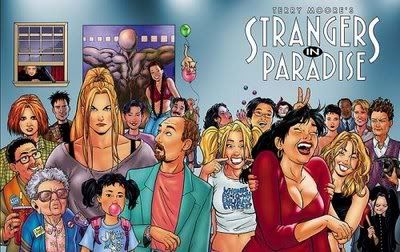 Jennifer: I agree with Anika. I'm not sure there is a "gateway drug" when it comes to comics, because the medium is so broad that interest in one thing won't necessarily translate to interest in another. I love comics, but I didn't love Strangers in Paradise; meanwhile, the friend I borrowed my copy from read and enjoyed almost all of SiP, but has never had an interest in reading any other comics. SiP is a great book to recommend to people who you think will like SiP, but I don't think it — or any other one comic, for that matter — will necessarily lead to an interest in comics at large. And I'll confess that I find myself somewhat bewildered by the "all girls like this!" reputation SiP has gotten. I'm pretty sure most of the fans of the book I've met have been men, and I think this conversation alone has proved that women don't have monolithic tastes. Some girls will like it, just like some people will like anything, but I wouldn't offer it as a blanket girlfriend recommendation.
That said, I'm not sure the first book alone is much to judge things on. I believe you, Sigrid, when you say that some of the issues I had with it are resolved over time, and I'd consider at least reading one more volume. I know it's something you and a lot of other people love, and I don't think that's baseless! Besides, I did find Katchoo's plot interesting, and I agree with those who mentioned the cop as a particularly intriguing thread. If nothing else, this book is a fascinating look at a writer/cartoonist coming into his own, which I think is useful for any comics fan.
Caroline: I feel like this 'gateway' question — and the issue of who recommends the book to whom, and why — is a good one to throw out to our readership.
My cynical explanation is that this book makes the Girlfriend Lists because it's a comic that comes easily to mind, which has women in prominent roles. There are also plenty of other comics with women in prominent roles, but I would venture a guess that the people asking for "Girlfriend" lists don't know what they are — except maybe Birds of Prey or Wonder Woman — because that's not what they pay attention to when they read and discuss most comics. And yes, there's a cynical explanation for my cynical explanation: the role of female characters in "mainstream" comics is a frequent topic of discussion on Fantastic Fangirls. And I've never actually seen, "Go read what some of the actual women who write about comics write about when you're not demanding that they make Girlfriend Lists" as an answer to unraveling the mystery of What Women Want in Their Comics. But, readers, if you run into that question, feel free to send your friends our way!
But none of that has anything to do with SiP — which I really did enjoy, and will probably read more of when I can get my hands on it. I know that different women have different reasons for liking the books they like, but the fact that there are female protagonists definitely factors into my enjoyment of this book. This is particularly true in the crime-related plots. In substance, though not in tone, Katchoo's story in the second volume isn't that different from what you'd see in an arc of Ed Brubaker's Criminal. But instead of involving one femme fatale and a bunch of men double-crossing each other, most of the players here are women. David, the only significant male (besides the cop), is the traitorous spy in the house of love. That's pretty cool, now that I think about it. But I'm pretty sure I'm only paying attention to the role reversals because I've absorbed so much hard-boiled crime fiction in my life — and that's not "supposed to be" for women, either. It gets messy when readers won't stay in their designated boxes, doesn't it? Messy, but much more fun.
Let me throw the question back at Sigrid, and then I think we can wrap up. Have you tried Strangers as a gateway comic, and if so, what's it a gateway to? What kind of readers does it seem to click with, and why do you think that is?
Sigrid: My partner, J, has read about six comic book series or graphic novels, ever. (She's started a lot more, but keeps stopping because "it would be so much easier if the stories didn't have those distracting pictures in the way.") J has read Maus, Fun Home, Strangers in Paradise, Sandman, Y: The Last Man, and Order of the Stick. Does anything strike you as familiar about that list? Does it not look a lot like the Girlfriend Lists? I asked J how it was she got through those comics, and not others. She replied, "The stories are quite good. And the art isn't complicated. They don't do weird things with the panels, except for Sandman, and I had trouble with that. Those comics do a lot of the storytelling with text, which is easier to read. And except for Sandman, they have the same artist all the way through, so I could recognize the characters."
Food for thought.
Caroline: And that's funny to me because one of the things I kept thinking reading SiP was (as much as I love Terry Moore's art), "Why are there so many words?" Including a whole chapter of text, in fact, which is one thing we didn't even touch on.
But that's enough from us. I'd love to get some comments from the gallery. Readers, has somebody (besides us) recommended SiP to you? Have you recommended it to others, and if so what was your thought process? How did you sell it? Do you have any thoughts on Girlfriend Lists? How different is SiP from "mainstream" comics? In what ways are they alike?