by Sigrid
When I go to comic conventions, I walk the tables. I look at the art for purely selfish reasons — I hope to make contact with artists I could work with in the production of my own comics. I pick up cards, I buy minicomics, I pick up flyers. But I usually don't get a chance to read the comics until I get home from the weekend. That happened at Emerald City Comic-Con, and I have some regret that I didn't read Ivy on the convention's Saturday night. If I had, I would have had a chance to tell Sarah Oleksyk in person how much I liked it.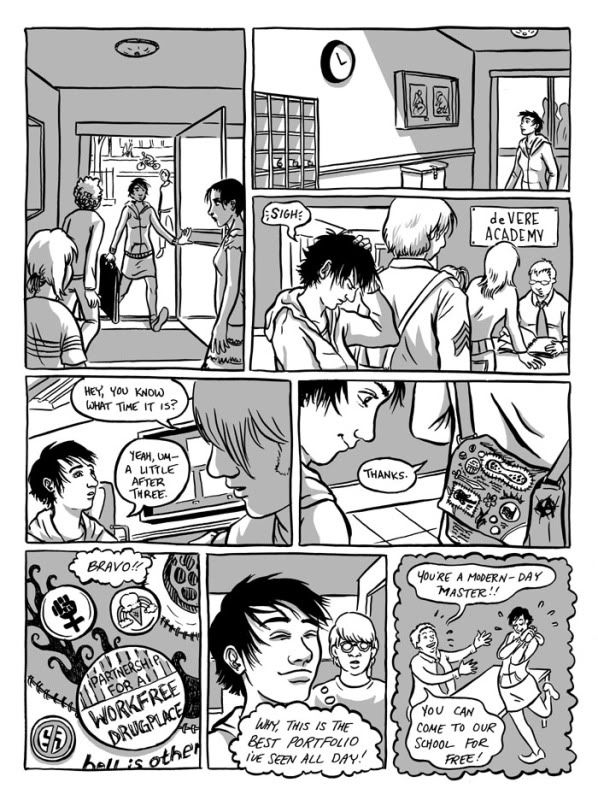 According to Oleksyk, "Ivy, a girl living with her mother in a small New England coastal town, longs to leave her home and pursue her adult life as a painter. Unfortunately, daily life doesn't run smoothly for someone who never knows the right thing to say, and who makes enemies more easily than friends. But when Ivy begins a long-distance relationship with a kindred spirit, she gets a glimpse of freedom and acceptance too good to pass up."
That's it in a nutshell — a story about a coming-of-age, a story about growing up. But that doesn't capture what makes Ivy so interesting. What caught my attention is that I didn't particularly like the character of Ivy. She's incredibly self-absorbed, she is jealous, petty, and insecure. She is, in short, a fairly run-of-the-mill teenager, and the story reflects that.
How refreshing.
For all that I didn't want to spend time with Ivy, or want her for a friend, I was engaged by her story. I found her a compelling character, despite my opinion of her decision-making process. I liked her story and enjoyed the way the ending didn't work out the way I expected. Ivy fights with her friends, meets a guy, runs away from home, discovers it's a terrible idea, and returns home to . . . keep having the same fights with her mother. To find that her former friends are still mad at her. To find that maybe some of the problems in her life are her own fault. Does she undergo a big dramatic change? No. Does she start to grow up? Yes, yes she does.
Ivy is available from Oleksyk's store as she tries to find a publisher to print it. (I am put in mind of Marvel scout C.B. Cebulski's words of wisdom on breaking into comics: "It has never been easier to break into comics. It has never been harder to get paid for doing so.") While you're on her website, checking out the excerpt from chapter one of Ivy, take a few minutes to look at the rest of her comics. My personal favorite is Fifteen Variations on "The First Day We Met." And don't forget to look at the Illustration section of her gallery. This is a woman who should be being paid to illustrate many comic book covers.
If you want superheroes or pleasant main characters, or if you dislike profanity, this comic is not for you. But if you like comics about real people and real situations, and you appreciate a diversity of representations of women in comics — a diversity that includes thoughtless teenagers — or if you liked Brian Wood and Ryan Kelly's Local, then Ivy is a comic for you.
Email: sigrid @ fantasticfangirls.org
Twitter: sigridellis