In Q & A, a weekly feature of Fantastic Fangirls, we ask our staff to tackle a simple question — then open the floor to comments:
What comic book fan t-shirt do you want to see?
---
Anika
Well, my list of characters I want to see on a (quality) t-shirt is probably too long to write but Polaris, Hawkgirl, Terra, Jewel, and the Stepford Cuckoos spring to mind. I'm a big fan of clothing that is worn by characters or looks like it might be. For example, I have been on a search for this yellow US AIR FORCE t-shirt (worn by Lisa in Girl, Interrupted) for ten years (in the intervening time I've come to associate it with Carol Danvers, too)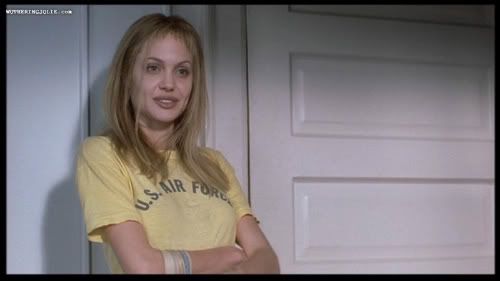 Scott Summers wears a "Property of Xavier's School" baseball tee in one issue of Ultimate X-Men and where normally I am very particular about fit, I'd want it in Scott's size. If this jacket of Cassie's could exist I would wear it every day in the cold weather. And I could totally get behind a Dazzler! "I'm with the band" shirt.
I'm also a big fan of merging fandoms. I'd love a Dark Phoenix yellow-on-red t-shirt with GRYFFINDOR! emblazoned across the back. Or a tight black tee that states simply "Ms. Marvel watches Fringe". Or the slightly more canon "Ms. Marvel would shoot first, too." …Want!
---
Caroline
"Jean Grey Would Not Put up with this Bullshit". That's my T-shirt. Some font nerd can figure out the typeface (though it should be something golden and maybe wavy, to look like flames). Ideally, it would be made of unstable molecules that would change from green to red, and back, depending on the wearer's mood, but in the real world, maybe we'd have to make different colors available. Also, in the real world, might need a euphemism for 'Bullshit' so some parent at a comic con didn't get annoyed at me.
But. I do love the idea of this shirt. I came up with it on Twitter, some time ago. To be honest, I can't remember the context, but it works on many levels. Jean Grey of the X-Men, the sweet vivacious girl next door, who also happens to be in occasional possession of a cosmic force of planet-eating power. This does not actually describe me, but it says something about my ideal self: sweet as you please in most circumstances, but cross her and risk her righteous anger. I like to think every fangirl has a little Phoenix Force in her.
---
Jennifer
I recently tried to do a google search for a She-Hulk t-shirt. I found exactly one (beyond some small ensemble appearances), which was entirely sold out and only came in a girly cut in Juniors sizes. I'm not really a big fan of the color green, ironically enough, but if a green She-Hulk t-shirt existed in the standard unisex cut, I'd be all over that. I have shirts with Cap and Iron Man and Cyclops and Wolverine and Beast and most of the rest of my favorite characters, but no She-Hulk. This needs to be rectified! I'd especially like a powerful, punching She-Hulk over some text — because what girl doesn't need a shirt that says "You wouldn't like me when I'm angry"?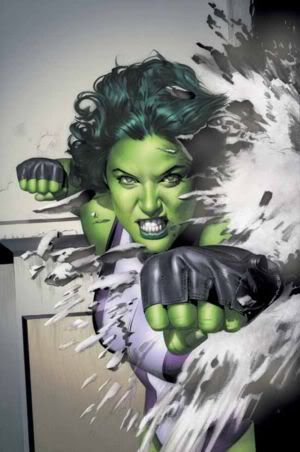 ---
Sigrid
I want a shirt for a comic that doesn't exist. I want a Phoenix Corps t-shirt.
The Phoenix Corps, long-time readers may recall, is the imaginary comic book that involves Jean Grey, Rachel Grey, Hope, Wanda Maximoff, Lorna Dane, and some other women of the X-Men, all invested with the shared Phoenix Force. They run around the universe fighting crime protecting and reinforcing reality, while providing a rehab service for the emotionally fragile members of the mutant family.
This idea came about in lengthy email conversation with my fellow Fantastic Fangirls. It's our response to the fate of so many powerful women in the Marvel U — depowered, dead, or insane — the Phoenix Corps is what I want to see instead. It's a vision of a positive direction for these characters instead of more fannish complaint.
The t-shirt would have images of Jean, Hope, and Rachel looking powerful and strong, the Phoenix-light blazing around them. Underneath them would be the logo "Phoenix Corps," in flame-themed font. Maybe if I can't get the comic, I could find someone to make the t-shirt for me . . .
---
So what about you? What comic book fan t-shirt do you want to see?