Posted by Caroline
Ever since December, when Marvel announced the publication of Girl Comics, the anthology series has been the subject of intense debate and speculation. (You can see what Sigrid said about it here; my thoughts are in the comment section).
Since then, the (all-female) list of writer and artist contributors has trickled out, along with some intriguing pages of sample art, and it was quite an event — even a relief –when Girl Comics #1 finally hit the stands this week, so that we actually have a comic to review! Now that I finally have it in my hand, I'm happy to report that, exactly as I hoped, Girl Comics #1 is a treat from beginning to end.
One of the things I wondered going into this review was, "Will this be a comic that I would want to buy, and read, if I came in without knowing anything about it?" Of course I wanted to support some of the top female talents in the industry, but I also wanted this to be a book I could proudly pass on to others as worth reading in its own right. That question was answered almost immediately when I saw this intro page by Colleen Coover: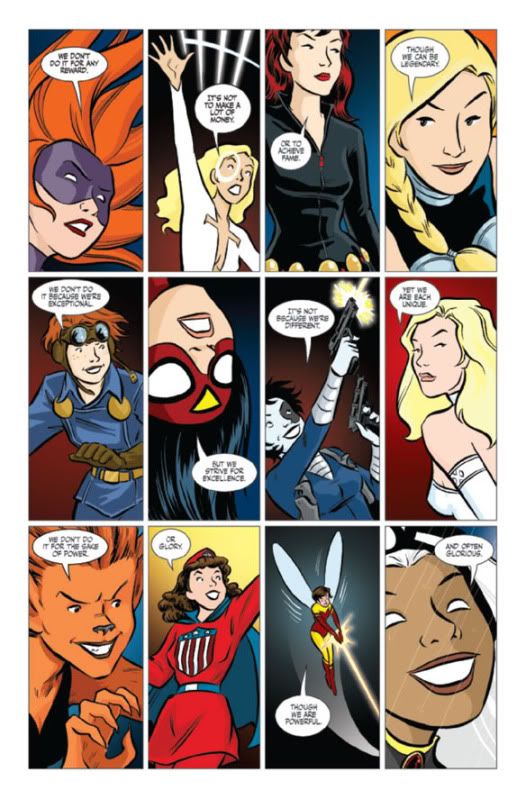 Now I always buy Coover's work, when I can, and besides, I'm the target market for this book. I love comic book heroines; I love their spirit, their energy, and the ways that each of them is unique. This piece captures that in so many wonderful ways. I'm not even sure who all of these women are (and I'm a Marvel fiend), but look at all the subtle differences in their facial expressions. Each of these panels looks like it comes out of a larger story, and I'm having fun imagining what's going on with each of them.
In the spirit of that introduction, the anthology goes on to include six stories of strikingly different looks and tones. The opener, written by G. Willow Wilson and drawn by Ming Doyle, shows the X-Man Nightcrawler in a German cabaret. There's no exposition and little context to the 7-page story; it's almost entirely a mood piece, accented by the lyrics to an eerie ballad being sung onstage — shades of V for Vendetta – as Nightcrawler is drawn into a sinister fight — or is it a planned rescue? We never find out what the X-Man is doing there, or who the woman is that he (sort of) saves, but the sense of unease evoked by Wilson's words and Doyle's lines continues to linger, and dispels any thought that the title "Girl Comics" means the pieces will be lightweight or twee.
The spooky mode prevails in several of these pieces, most memorably in Robin Furth & Agnes Garbowska's "Clockwork Nightmare". This is a version of the Hansel and Gretel fairy tale, starring the children Franklin and Valeria Richards, from The Fantastic Four. While you might at first be deceived into thinking this is a simple children's story, it's worth remembering that Furth is a longtime collaborator of Stephen King (she co-writes Marvel's version of The Dark Tower), and this memorably-designed story brings out the horror lurking beneath this fanciful tale. Equally creepy in its own right is a Valerie D'Orazio/Nikki Cook story about that least-girly of Marvel heroes, the Punisher.
That's not to say there's no light to be found in this anthology. Independent comics legend Trina Robbins collaborates with Stephanie Buscema on a throwback-y story about an early incarnation of the Marvel character Venus. These days, V kicks ass along with the superhero team Agents of Atlas. But once she worked at a fashion magazine, and this story visits those days. Buscema is a painter, and I love the look of this story, from its Mad Men-esque fashion designs to the eye-popping colors. (Can I take a moment to say how fantastic all the colors in this book look? Considering that dull, muddy colors are one of the most consistent complaints I hear about Marvel's mainstream books, I hope some editors take a good look at this gorgeous production and make sure these colorists get a ton of work!)
Another really fun story is a two-pager, written and drawn by Lucy Knisley, about a day in the life of the villain Doc Ock. He just wants to go to the store and get groceries — but everything he sees reminds him of Spider-Man, and he encounters octopus-phobia everywhere he goes! This is classic humorous cartooning in the spirit of the backup stories Coover has done in many of Marvel's All-Ages books, or Chris Giarrusso's Mini-Marvels. It also reminded me that I've been wanting to read Knisley's travelogue comic French Milk, and now I have even more motivation to do that.
While I enjoyed all of these stories, I've been saving the best for last — though in some ways, "best" is defined as "the story I personally loved the most and am thus least able to talk about coherently." That would be "Head Space," written by Devin Grayson, with art by Emma Rios.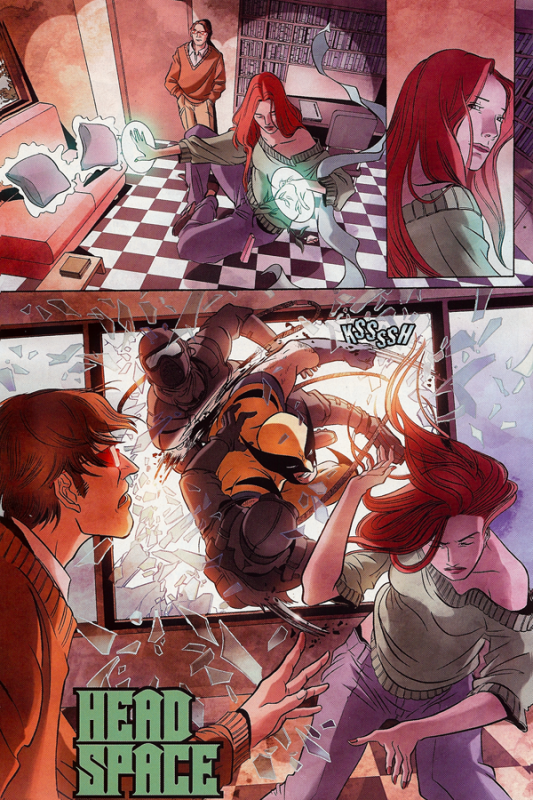 This story features Jean Grey and Cyclops and Wolverine, and it's been good long time since I got to read a new story about the those three characters that wasn't X-Men Forever. It's six pages of minimal dialogue but there are so many layers of action and movement, of dream and reality, that I've read these half dozen pages a few dozen times and keep finding new facets to them. I would dearly love to read the script and find out how this was all communicated to the artist. I'd also be happy if Emma Rios — who draws dynamic, realistic figures, and expressive faces — was drawing a book that I read every month.
Overall, the first installment of Girl Comics was everything I wanted it to be. It showed me work by some of my favorite creators and introduced me to others I'd like to learn more about. It gave me a book that I could show to my friends when they ask about women who are working in mainstream comics. As a bonus, it had features about women who were important in the history of Marvel — Flo Steinberg and Marie Severin — and I hope we get more next month! Most of all, it gave me great art and memorable stories, like every good comic should.
Any way you look at it, Girl Comics is just plain good comics.
By Caroline Pruett
Email: Caroline@fantasticfangirls.org
Twitter: madmarvelgirl