In Q & A, a weekly feature of Fantastic Fangirls, we ask our staff to tackle a simple question — then open the floor to comments:
What is a favorite story arc you think is under-appreciated?
---
Anika
Long, long ago in 2003, there were no New Avengers, Mighty Avengers, Dark Avengers, Young Avengers, Secret Avengers or To-Be-Announced Avengers. There was just (Earth's Mightiest Heroes) The Avengers. And long, long ago in 2003, I wasn't reading comics regularly. Or really at all. But Geoff Johns' Avengers' arc Red Zone changed that. I do not think I would be here, writing this answer for this blog with these people, if I had not started reading that comic. It made me want to read the next one. And I haven't stopped. I think I forget to appreciate that sometimes.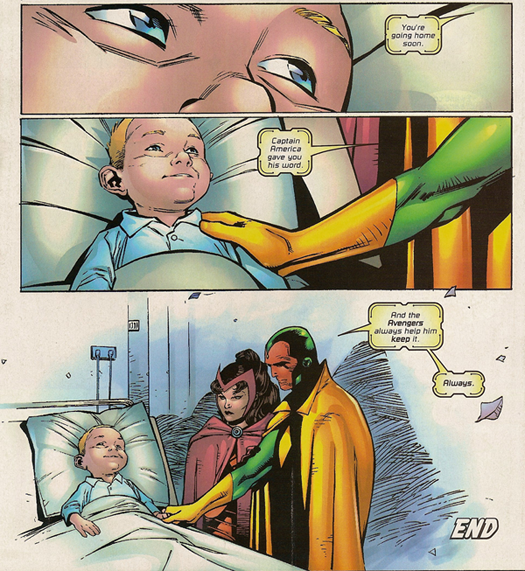 ---
Caroline
The Dark Phoenix Saga, contained in issues 129-138 of Uncanny X-Men is usually considered to be the classic X-Men story, and I've always had mixed feelings about that. On the one hand, it's the story of the rise and fall of Jean Grey, who is my favorite comic book character. Jean is awesome and powerful in this story — she eats a sun! But she also dies at the end of the story, she's insane for a lot of it, and let's not forget the part where the insanity is largely induced by an evil plot to psychically rape her.
It's not that I want to de-canonize Dark Phoenix; it's a story I love on a lot of levels. I just wish that the definition of this arc could be expanded a little to include the earlier issues 105, and 107-8. Why are those comics so important? They show that Jean is able to control the Phoenix power and use it for good. She saves the whole universe and she does it by holding hands with her best friend and her boyfriend's dad and thinking about how awesome she is. That's girl power.

---
Jennifer
I don't make any secret of the fact that I'm not a fan of the writing of Craig Kyle and Chris Yost. I find their work to be distastefully brutal and bloody, and their character preferences a bit too far on the Millar-esque side of the scale (i.e. hardcore jerks). But, ultimately, my distaste has less to do with my feelings about their current writing and more to do with my lingering sadness over their abrupt substitution as the writers of one of the first comics I ever read: Nunzio DeFillipis and Christina Weir's New X-Men.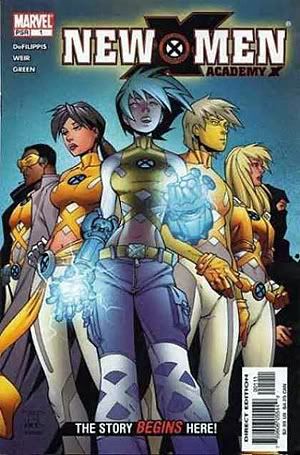 New X-Men — which, in a demonstration of how shaky the book's survival chances always were, had once been titled New X-Men: Academy X and before that New Mutants — was about the newest generation of young mutants, some of whom had been introduced during Grant Morrison's run or earlier and others of whom were created for the book itself. Current young X-Men like Sooraya, Anole, Surge, Mercury, Rockslide, Hellion, and Pixie all came to prominence in this book, as did a whole bunch of other awesome characters, like Laurie Collins (Wallflower), Sofia Mantega (Wind Dancer), and Jay Guthrie, who have mostly faded into obscurity in the years since. The premise of the book was simple, but unprecedented — the first generation of New Mutants returned to the Xavier Institute as adults, prepared to teach the next generation and help them discover their potential. The characterization of the older characters — Rahne Sinclair in particular — was sometimes a bit shaky, but this was the book that taught me to love Dani Moonstar and Xi'an Coy Mahn, and to appreciate the long, multi-generational history of the X-Men franchise. And these NEW New Mutants were fantastic creations, multicultural and multi-dimensional, brimming with life and ready to take on challenges lighthearted and serious alike. They battled addictions, destructive mutant powers, love woes, and the Blob with equal verve, all while surviving the trials and tribulations of life as students at a not-so-usual high school.
Then Kyle and Yost came and weeded out half the characters on M-Day (including almost everyone who could be called cheerful or sweet) and killed off half of the ones who remained. But until that point, the book was a wonderful look at the kind of inter-generational interaction rarely seen in Marvel Comics, and a wonderful look at how the Xavier Institute might actually function as a school. DeFillipis and Weir only managed to complete a handful of arcs before they were replaced, but their overall contribution to the book will always be one of my favorite little-remembered and underappreciated Marvel stories.
---
Sigrid
When I proposed this question, I was pretty sure we'd be delving into the deep canon of the ongoing superhero titles of Marvel and DC. Not only because that's largely what we at Fantastic Fangirls read, but because in the last sixty years, there have been a LOT of stories told with those characters. Only a fool, or a fan, knows and remembers them all. I plead guilty to both. I thought for a bit about what I would pick. The original Thunderbolts arc? The Birds of Prey/Nightwing crossover? The Demon Bear story from the original New Mutants? But I had to, ultimately, go with my heart.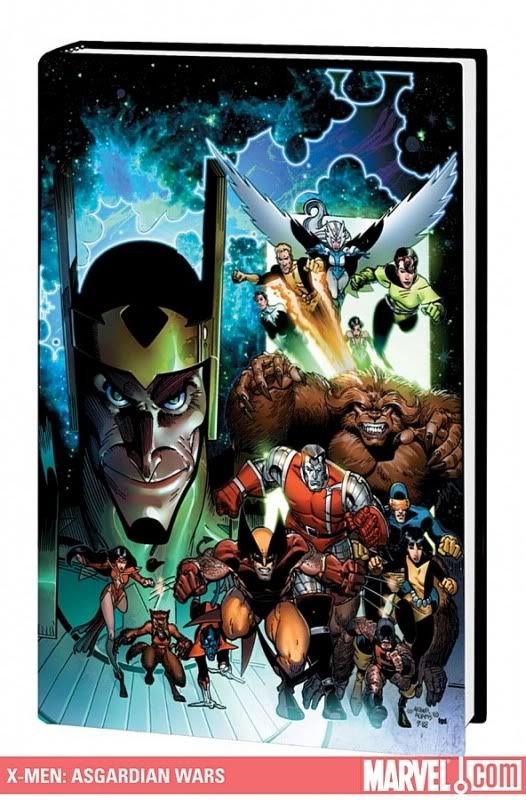 X-Men: Asgardian Wars.
This story has everything an X-fan could ask for. Scott being a good leader and being emo and uncertain. Logan being gruff and mean yet sensitive. The witticisms of Kurt. Rogue's attitude. Kitty getting all the really awesome lines as written by Claremont. This was the storyline that cemented the character of Rachel Summers — brash, impulsive, damaged, but attempting with all her might to be as heroic as her mother. This storyline features Madelyne Pryor as a lead in the first half. The second half of the story gives us all the New Mutants, with story arcs for each of them. And the villains . . . Loki pulls the classic trickster ploy of giving people exactly what they want. And the Enchantress, well, what she does to Illyana is creepy as hell.
The Asgardian Wars story is nestled in the richness of Marvel continuity. Thor is away from Asgard, and Odin is, I dunno, dead or something? I never read the Thor titles, ever, but when I first read this I knew the story could only take place because of what was happening in those other books. Scott takes the X-men to Asgard using, I dunno, thunderbolts he got from some guy? It does't matter that I've never heard of the fellow, because everything you need to know to follow this story is explained to you in "As You Know, Bob,"-style captions and monologues.
The whole thing is a delight. The art is stunning, first by Paul Smith and then by Art Adams. The story is one of grand adventure, fate-of-the-world stakes, with the potential for personal tragedy. Lives and worlds are on the line, as well as love, power, personal despair, and the future of the human race. In this story the X-Men save not one, but two worlds. All the while remaining true to the witty, angsty, relationship-centered characters that they are.
---
So what about you? What is a favorite story arc you think is under-appreciated?