In Q & A, a weekly feature of Fantastic Fangirls, we ask our staff to tackle a simple question — then open the floor to comments:
What comic book character do you want to compete at the Olympics
---
Anika
I hate to be predictable but Carol Danvers embodies the Olympic spirit more than any other character I can think of: the fiery flame of passion, determination, achievement, and global idealism by way of patriotism.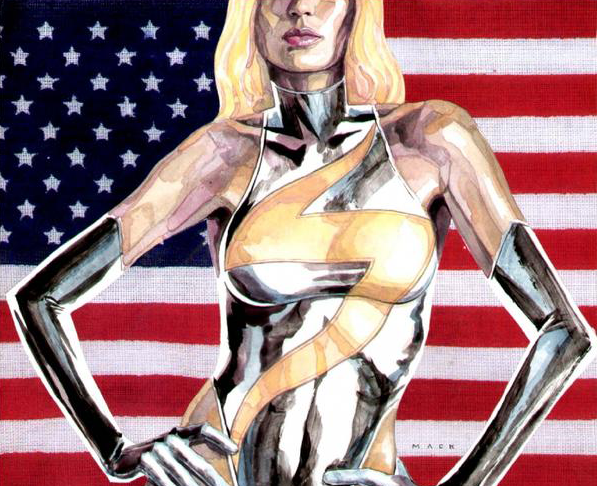 She could be competitive in many events but there is one she'd love.
Have you ever watched Ski Jump? Skiers zoom down a ramp at up to 60 miles per hour and launch themselves into the air in what can only be described as an attempt to fly. It is not for the fainthearted, but the fearless. And Carol has always, always wanted to fly. Fast, and far, and free.
Just one problem. Women don't jump at the Olympics. Is that archaic or what? There was a proposal to get Women's Ski Jumping into the Vancouver Olympics and it was rejected on the grounds that there aren't enough women ski jumpers. Well, obviously if they aren't allowed to compete! Then, proving they exist, 15 international women ski-jumpers sued to be allowed in. They lost. Twice. So Carol is ineligible for her event even if she weren't a superhuman.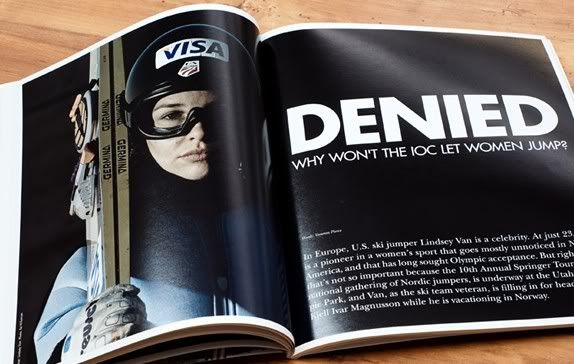 I'm submitting a protest. Ginny Weasley deserves her Olympic moment, too.
---
Caroline
Two-man bobsled obviously calls for a Green Lantern. Read this description: "Pilots must have the skill, timing and finesse to drive the sleigh along the best possible line to achieve the greatest possible speed." Sounds like a job for Hal Jordan, right?
Why two-man bobsled? Because no superhero is better at the one-on-one team up than Hal. So. . what superhero is best suited to be Hal Jordan's brakeman?
The brakeman is the guy who lends direction and control to the race, who makes sure that the sled gets to the bottom in one piece. The obvious answer is Hal's old Brave-and-the-Bold buddy, the great-and-no-longer late Barry Allen. He fits the bill in every possible way including, of course, speed. But using super speed in the Olympics would violate Barry's straight-laced sense of ethics. Hal could (and would) take off his Green Lantern ring, the way he does when he flies jets for the Air Force. Among other factors, there's no daredevil thrill in facing off against gravity if you can make yourself a flying horse anytime you want and pull out of a tailspin. But Flashes can't turn off their superspeed. Also, Barry would show up late and get the duo disqualified.
Kyle Rayner would do it if Hal asked him to, but that's not how he'd prefer to spend his time off. He'd rather work on his art. Ditto John Stewart in his career as an architect. And as entertaining as a Hal Jordan/Guy Gardner teamup would be, you couldn't really trust Guy not to crash the sled just for fun. As for Oliver Queen, he'd probably be keen to take on another challenge — use some of his fortune to fund the team, too. But Hal would never ask him, because he'd be suspicious that Ollie would find a political cause to protest and end up chaining himself to the bobsled track instead of competing. Hal would probably have a point.
So which Justice League A-lister fits the bill? I'm thinking of a guy who has the money to spend on equipment and training, the daredevil reputation to maintain, no metahuman powers to get in the way, and the amazing physical and mental control that a great brakeman needs. Plus, the guy needs to learn how to have a little fun. Meet Bruce Wayne, America's newest bobsledding superstar.
---
Jennifer
This is the first year I've watched the Olympics, and I can't seem to stop comparing the athletes to comic book characters. It's understandable — Olympic-caliber athletes are pretty much the closest thing to superheroes we have in the real world. In some cases, my comparisons have been more about physical casting than personality — snowboarder Shaun White as Shatterstar, speed skater Apolo Ohno as Daken — and some have been based on a few more factors, like the fact that flamboyant ice skater Johnny Weir pretty much IS the human incarnation of Northstar, costume and all.
But there's one comparison, one that came to mind almost accidentally, that has me really intrigued. On the surface, Scott Summers, X-Men leader Cyclops, doesn't strike me much as the figure skater type — he doesn't really have a performer's personality, or the body type you'd expect of a skater. But I changed my mind when I saw this guy win the gold medal: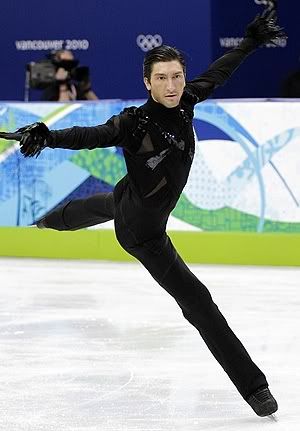 That's Evan Lysacek, the first American man to win ice skating gold since 1988. He's tall and skinny, deceptively gangly, with dark floppy hair (when it's not slicked back) and a serious face that makes him look older than his 24 years. In interviews, he comes across as awkward but serious, standoffish and almost (admittedly) obsessive-compulsive in his determination to do everything exactly right. And did I mention his first childhood skating costume was a superhero costume he designed for himself?
In short, Evan Lysacek is who Scott Summers would be if he were an ice skater. And I'd love to see that collusion come to life.
---
Sigrid

I want to see Katina Choovanski of Strangers in Paradise compete in biathalon.


That's right, Katchoo. Think about it. Gruesomely stubborn, hates to lose, likes to compete in things other people think are important just to piss them off. She's in reasonably good shape, and could easily get into competitive condition with a year or so of working at it. She keeps her head in high-pressure situations, as long as her heart isn't on the line. She'd be a fantastic interview pre- and post- competing, as long as she wasn't in the middle of a fight with Francine, David, or Casey. Her antics, on and off the course, would make for great publicity.
And she's an amazing shot.
The only thing is, she'd have to quit smoking. I'm not sure Katchoo would commit to that.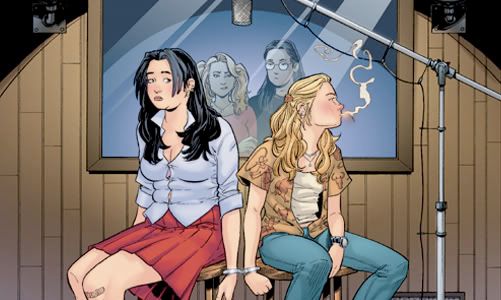 ---
So what about you? What comic book character do you want to compete at the Olympics