In Q & A, a weekly feature of Fantastic Fangirls, we ask our staff to tackle a simple question — then open the floor to comments. This week, we're participating in Alert Nerd's newest mega-blog crossover event, posing a question about our most unpopular, hidden geeky opinions:
What is your True Geek Confession?
---
Anika
I write fanfiction.
Lots of people do, but the majority I have come across do so behind closed doors, so to speak. Some post stories to closed communities, some post only under pseudonyms like JeanScott4Ever or Kirkisit16 (I have used many handles but not to hide my identity), some will publicly admit to maybe sometimes reading fanfiction, but they claim to be Serious Writers who would never author one. As if Serious Writers never write fanfiction. Or more to the point, as if writing fanfiction is not really writing.
And that isn't even the only stigma associated with it. I say "I write fanfiction." and twenty people read "I write porn about Captain America." Twenty other people read "I write porn about Captain America and Iron Man." and twenty more people read "I write porn about Captain America getting pregnant with Iron Man's baby." Rather than confirming or denying any of that (either seems pointless to me, honestly), I'm going to let my work speak for itself. To protect the identity of anyone who may have read or discussed these previously, I have reposted them to Google from wherever they were first shared with the world (Fanfiction.net, LiveJournal, various Shipper communities, etc.). All of the following stories were written by me over the last ten years, the most recent just last week.

(I also make fanvids.)
Canon Confirmed: scene inserts or stories that hold to canon. Plot, characterization, and details are all in line with the original fiction. Ex. Carol Danvers and Jessica Drew compare notes about Peter Parker's bumbling attempts to flirt.
The Darkness Has No Armor (Star Trek: Voyager; Kathryn Janeway, Tom Paris)
Falling Into Place (Justice League Unlimited; Shayera Hol, Batman)
Farewell to Naboo's Angel (Star Wars)
It's Not Easy (Avengers; Carol Danvers, Tony Stark, Peter Parker)
Canon Plausible: scene speculation or stories that play with, and can contradict, canon. Similar to Marvel's What If? line of comics. Ex. Carol Danvers is dating Tony Stark.
Covert Ops (Avengers; Carol Danvers, Peter Parker)
Remembering a Hero (Avengers; Clint Barton, Wanda Maximoff, Carol Danvers, Tony Stark, Steve Rogers)
Wilted Flowers (Harry Potter; Barty Crouch Jr., Lily Evans)
Canon Busted: crossovers, "crack", or stories that cannot be canon. Not because the characterization is different, but because the circumstances are too different. Ex. Carol Danvers is dating Oliver Queen.
Doubt (Justice League Unlimited;X-Men)
Four Weddings and a Funeral (Avengers; Batman; Green Arrow; Teen Titans; Young Justice; includes original characters)
That's What You Get for Being a Bad Child (Avengers; Green Arrow; Young Justice)
---
Caroline
I unironically love Cable. Nathan Dayspring Askani'son (Priscilla?) Summers — the time-travelling, glowy-eyed, metal-armed, significantly-older-than-his-dad-Cyclops, gun-toting supersoldier who frequently gets himself confused with Jesus — is one of my favorite characters in comics.
All right, maybe I let a little irony sneak into that description. I am infinite, I contain multitudes (which, I'm pretty sure, is also one of Cable's powers.)
I'm not laboring under the illusion that I'm the only person who likes Cable, or even the only person who likes him without irony. In fact, I suspect some of the character's most ardent fans are the type of people who wouldn't recognize irony if it painted itself purple and danced naked on a harpsichord, singing, "Irony is here again." (And yes, I stole that like from Black Adder, which I also love unironically, but I doubt I have to file that among shameful geek confessions).
What I don't think I've ever run across is a fellow loves Cable in quite the way or for quite the reasons I do. I don't have any interest in his early-90s origin with its aura of Rob Liefeld. I've never read X-Cutioner's Song, supposedly the definitive Cable story, and I'm not in any real hurry to. As a Marvel fan who was fortunate enough to miss most of the '90s, I first ran across the character in the crossover X-Men Dream's End, a collection I bought because it was marketed as explaining Colossus's backstory for Astonishing X-Men. The Colossus story (and most of the rest of the book) turned out to be pretty mediocre, but I was struck by one, now mostly forgotten, storyline. Cable had been assigned to work undercover as a bodyguard for Robert Kelly, the anti-mutant Senator who was introduced in Days of Future Past. Kelly was having conflicted feelings about his former prejudiced views.
The politics of the story really didn't make any sense, but it did feature a moment of unlikely bonding between the Senator and the mutant soldier. As Cable's backstory had it, he had been created and sent back from the future in order to defeat Apocalypse. At this point, Cable believed that Apocalypse had died — and Cable's father Cyclops along with him — and the mutant was completely at sea about what to do with his future. For all the not-so-great storytelling that was involved, that scene got me hooked on Cable. I was fascinated by the situation of a guy whose life's mission had been accomplished, leaving him with no idea what to do next. Subsequently I read the Search for Cyclops miniseries (which I might think is another thing that only I love, if I didn't know TheOtherJeff), the David Tischmann/ Igor Kordey series where Cable hangs out in the Amazon and fights Peruvian radicals (yeah, that one's just me), and even a little of Soldier X (before I couldn't take it anymore; Blaquesmith is not a good character, y'all, even I have my limits).
I eventually discovered Cable & Deadpool, which really does (deservedly) have an active and passionate fanbase. I feel like those are mostly in it because they love Deadpool. Or homoeroticism. Or Fabian Nicieza's writing. Or complete insanity. As much as I enjoy all those things, I came (and stayed) mostly for Cable's Messianic arrogance, his determination to behave like the lovechild of Professor X and Magneto, and his devotion to an agenda that I affectionately call "exploding things for peace." I could never entirely shake the feeling that Cable's approach made about as much sense as anything else in the Marvel Universe. Sometimes, the guy with the metal arm, the glowy eye, and the ridiculously large gun just might have a point.
---
Jennifer
What is there left to confess? I've already admitted my love of Marvel's swimsuit specials, giant company-wide crossover events, Bernie Rosenthal, Cat Beast, and Daken, not to mention Cyclops. Since adolescence, I've always been the weird kid in the corner who openly likes things everyone else would consider a guilty pleasure, from Hanson to YA literature to Andrew Lloyd Webber musicals to comics themselves, and I've even liked some things that all of nerddom seems to hate, like Star Trek: Voyager and Jar Jar Binks. (Granted, I had only just turned 13 when The Phantom Menace came out, so I lacked the full understanding at the time of why he was so problematic). At this point it's hard to find something contrary I enjoy that I haven't already shouted from the rooftops. I don't want to talk about things I dislike — I always prefer gushing about things I love to ranting about things I hate — so I can't go to the opposite end of the spectrum. What's a proud misfit to do?
Then a few days ago, like a mystical omen, I passed by the Daredevil movie while flipping channels, and I realized what my answer had to be: I like the Daredevil movie more than any Daredevil comics I've read.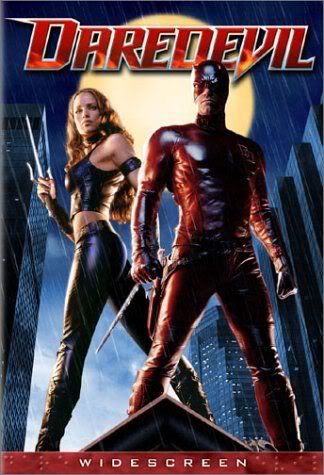 It's not that I think Daredevil is a good movie. Even in its superior director's cut form, it's a mediocre movie at best. But I find it incredibly entertaining. I love Jon Favreau's take on Foggy Nelson, my favorite Daredevil character; I love the special effects used for Matt's powers; I love the haunting portrait of Matt's childhood origin. The little shout-outs to comics creators (not to mention the cameos from Stan Lee, Frank Miller, and Kevin Smith) make me grin, and I think Colin Farrell and Michael Clarke Duncan are a suitably terrifying Bullseye and Kingpin. I also really enjoy Ben Affleck (which I guess is a geek confession in and of itself), and I think he does a pretty good job with the material he's given, as does Jennifer Garner. The actors' real-life chemistry saves scenes that would have been unwatchable otherwise. And I love, in the director's cut, the glimpses of Matt as a lawyer, a role I find much more interesting than his role as Daredevil. Sure, the soundtrack is overwrought, the plot meandering, and the dialogue abysmal, but I always seem to watch the movie when it pops up on TV, and I enjoy it every time.
I've read Daredevil comics before, but none of them have ever stuck with me in quite the same way. I enjoyed Kevin Smith's run well enough, picked up an issue or two of the Bendis and Brubaker runs. I can acknowledge that the character has been blessed with some fantastic writing and art. But for the most part, I couldn't care less. He's just too brooding and crazy and relentlessly dismal for me. Without the charm of Ben Affleck and the insanity of Colin Farrell, it seems, Daredevil isn't a character who particularly pings for me, and thus I remain an odd little duck.
---
Sigrid
I really dislike Captain Kirk. Really dislike, an unreasonable amount for a fictional character. But it galls me to no freaking end that he is lauded and idolized as some sort of male role model. Kirk exemplifies almost all of the traits I find utterly tiresome in guys. The arrogance, the combative competitiveness, the ego, the oozing smarm. He also embodies traits I dislike in people in general — the over-reliance on intuition to the exclusion of rationality, the lack of orderliness, the thinking he's the center of the universe. Juvenile ego-drenched masturbatory wish-fulfillment of sociopathic selfishness.

Now, because he's the hero of the stories, his irritating methods and traits are rewarded, giving viewers the impression that being like Kirk is a good thing. Ugh.
---
So what about you? What is your True Geek Confession?