Posted by Jennifer
The short version, for those who don't know:
Last month, Captain America #602 was published. In the comic, Cap (still Bucky, not Steve Rogers) and the Falcon encountered a group of anti-tax protesters in Boise, Idaho. The images of these protesters included this panel: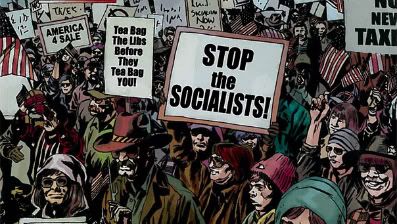 Apparently, this upset people in the Tea Party Movement, who felt that their portrayal in the comic was unfair, particularly the Falcon's assertion that black men like him wouldn't be welcome there. They complained and, consequently, Marvel yesterday blamed the specific Tea Party reference on a rushed letterer and promised to remove the sign from future editions of the comic, including the inevitable trade paperback. You can read the Fox News coverage here, the New York Times coverage here, and Joe Quesada's response here.
I'm not here to debate whether or not the Teabaggers are racist, though evidence points to the conclusion that racism is an element for some members of the Tea Party movement. I'm also not here to dispute Joe Quesada's claim that the words were a mistake. I have no reason to doubt that his explanation, about a letterer adding the words at the last minute in a rush, is the truth. I believe writer Ed Brubaker when he says he didn't write the words, and didn't expect them to appear.
But what troubles me – what angers me, if I'm being honest – is the fact that Joe Quesada and other Marvel bigwigs are willing to be bullied by an anti-government fringe group into changing and publicly apologizing for a product that was, "mistake" or no mistake, not in need of change or apology.
Let's consider a few facts:
1.) Whether or not these words belong to Ed Brubaker himself, they did not appear on the page by magic. The letterer (who I won't mention by name as I'm not sure if it was the regular series letterer or another individual) is part of the creative process. Therefore, intent WAS involved.
2.) The letterer would not have put those words there if they did not fit the scene. If someone can name me another major anti-tax, anti-government movement in the country right now that the characters in this scene were meant to represent, I'll give them a cookie. Specific words or not, those people were Teabaggers, and it's cowardice to claim otherwise, because, most importantly:
3.) Captain America comics have always been political.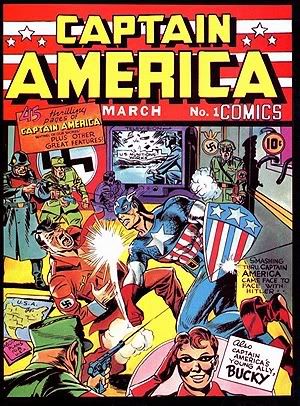 When a character dresses up in a flag, controversy is bound to follow. Joe Simon and Jack Kirby knew that when, in 1940, they robed their new creation in red, white, and blue, and set him on the cover of a comic book to punch Hitler across the jaw. And you know what? Some people got mad about this! Americans — specifically, the German American Bund – got mad about this, because we had not yet entered World War II and some still believed Hitler was of unimpeachable character. But did Timely Comics apologize and grovel and pull the issue from the stands? No. They stuck to their guns, and New York even sent a police detail over to protect the Timely building.
In his essay "Retconning America: Captain America in the Wake of World War II and the McCarthy Hearings," scholar Jason Dittmer notes that "since 1940, Captain America has served as a bellwether for changing attitudes about the values and policies of the United States." This was the premise for the entire first chapter of my senior thesis, and even a cursory look at Cap's history proves it to be true. In the 1960s, both Vietnam and its protesters were addressed in Cap comics. Once Cap met the Falcon in the 1970s, race and racism became major topics as Cap learned to grapple with the country's racist legacy, a grappling that continued into the new millennium with the Truth: Red, White, and Black miniseries, about a black soldier who was used as a guinea pig for the super-soldier formula before Steve Rogers. Years later, Cap helped clean up after 9/11 and fought terrorists overseas. And after Watergate, Cap comics even had an entire analogue story called "Secret Empire," in which a high government official – implicitly Richard Nixon – is discovered to be the leader of a terrorist organization.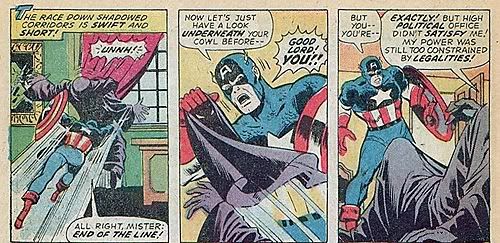 Let me repeat that: in the 1970s, Captain America comics implied that the PRESIDENT was a TERRORIST. And now we're worried about Teabaggers?
Cap comics have frequently walked a tightrope, producing stories that can be read favorably by either side of a political argument. But they have always been political in nature, always complicated and often heavily-disputed. If you look at letter columns from Captain America comics from the 1960s, it seems like the Vietnam War itself was being fought in the Cap mail bag. But that didn't stop the writers from writing their stories, or defending their work. Nor have recent events stopped Marvel writers from creating politically-charged stories (about Cap or otherwise), from the Patriot Act allegory in Civil War to the straight up Glen Beck parody in the currently-running Siege: Embedded miniseries. And yet now, when the fringe right is upset, Marvel is groveling.
What makes me angriest about this whole situation, however, is how starkly it contrasts with the list of all the things Joe Quesada and Marvel writers have REFUSED to apologize for in recent years – all the people whose legitimate complaints have been brushed aside derisively in the name of art or the almighty dollar. Let's start with Jonathan Hickman's use of the offensive slur "retard" in a recent issue of Fantastic Four, defended in the letter column as necessary to his art because "that's what a three-year-old would say." Let's talk about how editors spent months defending the Chameleon raping Peter Parker's roommate in Spider-Man without repercussions or even acknowledgment that it had been rape. What about all the times people have brought up the sexism or racism in certain comics and been brushed aside as crazy entitled fans, as if they were banging on the doors of the Marvel offices demanding the return of Deathlok? Marvel does not make a habit of apologizing, even when it probably should.
But when Fox News starts whining, it's time to bend over backwards to apologize and excise the material that offended a few ultra-conservative white people. Because, as we all know, it's a FAR bigger crime to accuse someone of racism than to be racist oneself. And while offensive slurs MUST be used to preserve the realism of a preschooler's portrayal, it's unacceptable for a black character to call the Tea Party Movement racist. Right?
This move on Marvel's part is offensive on two different levels. On one hand, it's a weasely attempt to deny the obvious political content of the comic, content that is completely in keeping with the comic's and character's history. But on the other hand, it's yet another example of the company bowing to the desires of the rich, powerful, and bigoted, as they do when they refuse to engage with the aforementioned fans and instead give attention and satisfaction to the people at Fox News.
I love Marvel Comics, and I expect better.
By Jennifer Smith
E-mail: Jennifer@fantasticfangirls.org
Twitter: throughthebrush