In Q & A, a weekly feature of Fantastic Fangirls, we ask our staff to tackle a simple question — then open the floor to comments.
Who is your favorite legacy character?
---
Anika
Um. I don't really like legacies. Generally. Tim Drake is one of my favorite characters, but not as Robin so much as a member of Young Justice/Teen Titans or on his own. Which are legacies, but not. Carol Danvers is my most favorite character but the idea that she's Mar-Vell's legacy is probably last on my list of why. But I do have one favorite whose legacy status is a significant part of what I love. Cassie Sandsmark, the second Wonder Girl.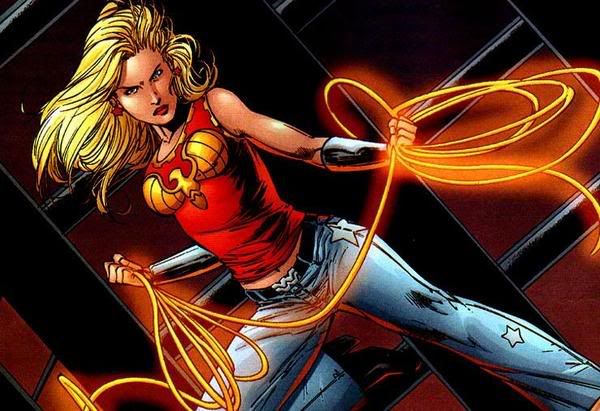 Cassie was introduced as the girl who wanted to be Wonder Woman. Meeting that goal, taking on that legacy, is the platform for her character. And she holds herself to it, often at a detriment. Cassie can be unforgiving, especially of herself. But she also lives as if becoming Wonder Girl and then Wonder Woman is her right, her duty and her purpose. To Cassie, it is who she is already. She just has to prove it.
---
Caroline
This isn't the first time I've said this, and won't be the last, but I love Renee Montoya as The Question, in DC comics. The storyline in 52, in which the original Question, Vic Sage, passed his identity on to Renee, is the best exploration of legacy I've ever read: respectful to the history and spirit of the original character, while allowing the new one to grow and change.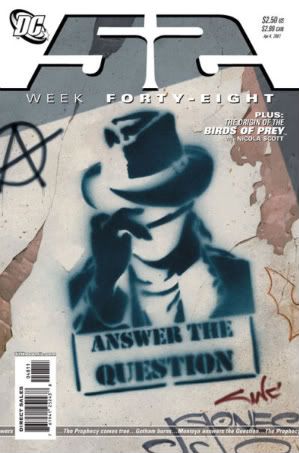 There haven't been nearly as many stories with Renee as I'd like — the post-52 and Final Crisis tie-ins were scattered, and the current backup series in Detective Comics is a bit too short to allow much depth. But I'll take whatever Question stories I can get, and the recent Blackest Night tie-in — featuring Renee and Lady Shiva, Tot Rodor and the ghost of Vic — brought the classic creative team of Denny O'Neil, Denys Cowan, and Bill Sienkiewicz back to the book with great effect. Special hats-off to Greg Rucka (who writes Detective and co-wrote the Blackest Night issue) for his devotion to the character making this all happen.
---
Jennifer
Everyone seems to be campaigning for Clint Barton to return to the role of Hawkeye. I'll admit that I, too, would love to see Clint wield a bow and show his full face on the battlefield once again (the better for quipping!). But I am not at all eager to see Kate Bishop, my favorite legacy character, lose the mantle.
Kate is a special legacy case for Marvel, even among the Young Avengers of which she's a part. Other than the Vision, all the other characters have invented new names for themselves, and many — like Hulkling and "Asgardian," now Wiccan — are not actually legacies of the characters they first appeared to be.
But Kate is Hawkeye. The purple costume, the sassy attitude, the tendency to jump into a fight without thinking — these are all part of the Hawkeye legacy. So, perhaps even more importantly, is the determination to be a hero with no superpowers at all. And when Captain America gave her the name, and Clint's bow, it wasn't a patronizing action — it was a sign of respect for a teenage girl who was just as willing as Clint was to challenge heroic icons like Cap.
Kate didn't know Clint. She only met him when he returned from the dead, after she'd already held his name for quite awhile. But even Clint himself was unwilling to take back the name, once he learned how much she'd earned and deserved it. I have no interest in seeing that taken away from her.
Besides, can't they both be Hawkeye? My name is Jennifer Smith; I promise, you can still make an impact in the world without a unique name!
---
Sigrid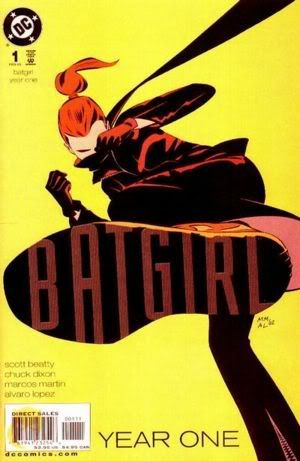 Batgirl. I not only like all four women who've worn the name of Batgirl, I like how DC and the writers of the comics have handled the transitions over time.
During the "No Man's Land" story we see two of the Batgirls rise up, attempting to fill the void left by Bruce Wayne's cowardly and ill-considered flight from Gotham. (Yes, I have issues with Batman in this story.) It's Batman and Oracle's rejection of Helena in the role of Batgirl that drives her to stand alone against the Joker — nearly recreating the fate of the first Batgirl. The legacy in this instance wasn't handed down, wasn't passed along. Barbara Gordon still clung to the name even though she knew she couldn't be Batgirl any more. And she resented the hell out of this cocky young woman who tried to fill her shoes.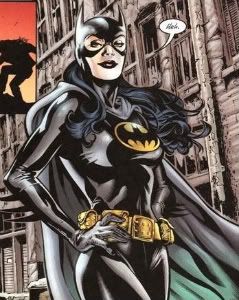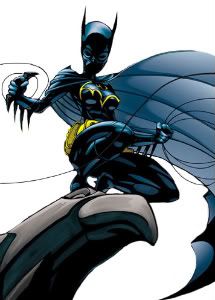 This wasn't the case with Cassandra Cain, though. Cassandra's competence in the face of some obvious handicaps won Barbara over. Babs let the name of Batgirl go with some reluctance, but ultimately with grace. Yet I think that in some way she could only bear to do it because Cassandra was dependent. Even as Barbara taught Cass and tried to encourage her to be a whole person, I think that Cass's damage made her somehow less threatening to the first Batgirl. Barbara never seemed to stop thinking of Cassandra as a child, however brave and capable.
At the moment, though, we have the current Batgirl. Stephanie Brown has tried to be Robin, she's been Spoiler, she's paid her dues, lost everything, and come back to try again. If ever there was a woman ready to be Batgirl, it's Steph. And Barbara has changed, too. She's successfully run a superhero team, she's lost her base of operations, she's traveled the world — Babs has grown since her early Oracle days in the Clocktower. She's grown since No Man's Land. Barbara Gordon no longer has to defensively guard against accusations that she might not be pulling her weight, that she might not be good enough for the job. She's ready to take on a mentoree as a partner. Working from a position of strength and confidence gained during her Birds of Prey years.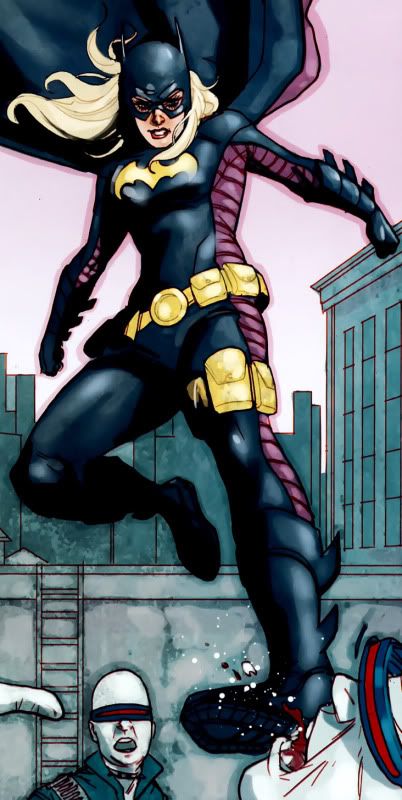 I'm enjoying the heck out of Batgirl. I like watching this legacy continue to change as the women who bear its name grow and change themselves.
---
So what about you? Who is your favorite legacy character?