In Q & A, a weekly feature of Fantastic Fangirls, we ask our staff to tackle a simple question — then open the floor to comments.
What's your favorite comic story of the decade?
---
Anika
Avengers Disassembled. I've said it before, but that's the answer.
And it's also why I prefer Harry Potter to Lord of the Rings, and why adore the Star Trek reboot, and why I'll always love Darth Vader. It's why I have season two of Teen Titans and Justice League: Starcrossed on DVD, and why both Batman Begins and Iron Man make my favorites of the decade list. It's why House of M disappoints me, and why I wouldn't mind Dark Reign continuing a little while longer. And it's why I'm so loyal to my Ms. Marvel.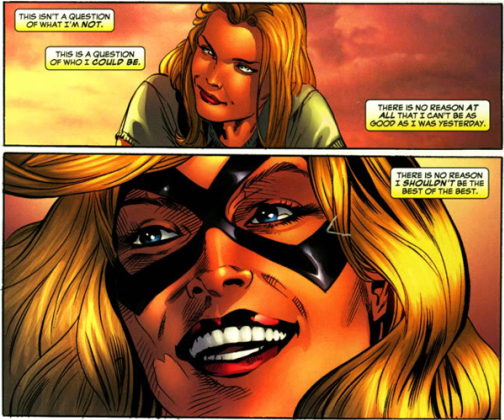 I love heroes who know they are heroes. The few, the proud, the self-aware. The chosen ones who know themselves almost too well, who are almost too flippant in their arrogance because they know their flaws, they accept their flaws, and they refuse to let any of it get in their way. They refuse to settle for anything less than the best — their best. And that kind of personality walks a very narrow road between self-consummation and self-destruction. It is most often the road of redemption.
I don't love Avengers Disassembled because I'm a Wanda fan. I am a Wanda fan, but I love the story for the story. It is a story of all the Avengers, and their destruction by one of their own. They were the very best of heroes, the best and brightest, and they destroyed themselves. And they keep doing it. Everything going wrong — everything going on — in the Marvel Universe today, can be drawn back to that moment.
And I care. I continue to care.
---
Caroline
Fun Home, a graphic novel written and drawn by Alison Bechdel, isn't much like the comics I usually blog about — but then, there isn't much that's like Fun Home. This uniqueness is a good thing, making it stand out from many other wonderful comics that I've read. It's a memoir in comic-book form, in which the author explores the connection with her late father, whose life and death were both full of mysteries. I don't want to say too much beyond that, because readers deserve to discover the intricacies of the story for themselves.
Bechdel blends pure reminiscence with something akin to historical scholarship, analyzing her own teenage diaries, letters exchanged within her family, as well as the impact of books that both she and her father read. It's a book for people who love comics, but also for people who love books, and people who come from families. I'm pretty sure that covers everybody!
---
Jennifer
When I first started reading comics, nearly four years ago, I borrowed almost all of them from a friend with an extensive collection. Eventually, I found my way to a comic shop and began to add a title or two to my infant pull list, so I wouldn't have to wait for him to lend me my favorites. The first three comics on that list were Joss Whedon's Astonishing X-Men, Brian K. Vaughan's Runaways, and Peter David's X-Factor. And each one of those comics, published entirely in this decade, could easily answer this question. They're three of the comics that have stuck with me the most over the last few years, the comics that made me fall in love with the medium and realize that being a comic book fan was something I needed to be doing with my life. The first two were wonderful complete stories I still love to reread, and the last continues to delight me month in and month out.
But my real answer, which will surprise absolutely no one, is the fourth comic I added to that growing pull list: Ed Brubaker's Captain America. I still remember where I was when I read the first issue (the dining hall) and gasped at the Red Skull's assassination at the end. I still remember reading issue 11, in which Steve Rogers learns what the Soviets did to Bucky through a dossier of documents that we read along with him, culminating in a stunning silent page of Steve's head in his hands as he begins to process the knowledge we've both just gained — an effect no other medium could duplicate. And I still remember the moment when I realized this character, who Ed Brubaker had taught me to love, would be the subject of the single largest piece of academic work I've done so far — a work that heavily influenced my recent decision to apply to graduate school to continue that sort of research. When I say that Ed Brubaker's Captain America changed my life — my way of appreciating comics, my future plans, and even, in some ways, my worldview — I do so without exaggeration. It was, without caveat, my comic of the decade. And now that Steve Rogers has returned from the dead, I'm excited to see what the next decade will bring.
---
Sigrid
Astonishing X-Men.
I can stop there, and have this be the shortest answer ever, but, being me, I won't.
In 2003 I "wasn't reading comics." By which I mean I was reading Hellblazer, Transmetropolitan, The League of Extraordinary Gentlemen, The Invisibles. I was reading Alan Moore, and Warren Ellis, and Grant Morrison, and Garth Ennis. I was reading Strangers in Paradise and Dykes to Watch Out For. I was reading Sin City. I wasn't reading comics, you understand. I'd quit, dammit. I'd given them up when they broke my heart. Right around 1994 or so.
So it had been nearly a decade since I'd read an issue of anything with and "X" in the title. But I'd heard, somewhere online, that Joss Whedon was going to be writing an X-Men comic book. Joss Whedon. I knew that Joss's favorite comic book character was Kitty Pryde. That was my favorite, too. And I heard that he was going to be writing her in this new X-Men comic. I knew I was going to get this title, no matter what. The only problem was, ten years of continuity I hadn't read. Whuff.
I began backfilling. Grant Morrison's New X-Men seemed a good place to start. After all, I liked his other works. I ran through what was available in trade and then started picking it up in issue. Then the trades of X-Treme X-Men, which rewarded me with Kitty nearly coming out as bisexual in "Mechanix," and with Kitty-and-Rachel's-undying-love in "Prisoner of Fire." I picked up the trades of Uncanny, and while I was at it I read Warren Ellis's run on Excalibur.
By the time Astonishing was published, I was ready. I was not only ready, I was back in love again. In love but a little smarter this time, a little wiser as to the ways of the comics publishing industry, a little more forgiving of things like crossover events, issue renumbering, and variant covers. And I was not disappointed.
Astonishing X-Men is my favorite story of the last decade. It also represents comics to me, for this decade. It represents the rise of writers from television, novels, and movies. It represents the rise of utterly breathtaking artists, and the increasing lateness and publishing delays of titles produced by those artists. It represents, with Warren Ellis's tenure as writer, the integration of writers from independent and mature titles into my beloved superhero comics. It represents the rising recognition of superstar letterers and colorists in the industry.
But even leaving that aside, AXM is my favorite story of the decade. It's the tale of growing up, again, endlessly. It's the tale of discovering that we don't just grow up once and then the world is fixed and good and set. On the contrary, we have to keep growing and changing and making ourselves into the person we next want to be. It's Kitty's story of forgiving herself and forgiving Emma, of recognizing that the world is not as simple as she craves it to be. It's Scott's story of accepting that he's incredibly screwed-up, and that Emma loves him anyway. It's the story in which everyone has to face their worst nightmares and just live with the consequences.
Above all this, though, Astonishing X-Men was and continues to be a story about consequences — about how things aren't fixed and forgotten, how we as human beings are not static and set in stone, about how the world of the future is built on the world we made yesterday. This is a damn fine story for the first years of this new century. Astonishing X-Men is a new story, built on the bones of the comics I love with all my heart, produced by the creators I respect and admire, using the characters I have known my whole life. This is my favorite comic of the decade.
---
So what about you? What's your favorite comic story of the decade?