Posted by Anika
The first thing you need to know is I have never read a Spider-Man comic that did not include the words and Mary Jane in the title. I know who Spider-Man is (who doesn't know who Spider-Man is?) but my knowledge of his character comes from Spider-Man and Friends, the movie franchise with Tobey Maguire, and his appearances is various comics I DO read, most notably New Avengers.
The second thing you need to know is of any comic currently available, the one I follow the most faithfully and scrutinize the most obsessively, is Brian Reed's Ms. Marvel. Followed by Brian Michael Bendis' aforementioned New Avengers starring Ms. Marvel. And, okay, a bunch of other Avengers (including Spider-Man!). After that my Marvel tastes run to "comics in which Ms. Marvel makes an appearance", like the Spider-Woman motion comic and the first issue of Realm of Kings (I still don't really understand what Realm of Kings IS …but Ms. Marvel is in it! And she swears by a made-up god and wears a Batman-esque mask. It's really all I need to be happy). If Ms. Marvel made an appearance in a DC comic or an independent comic (if, you know, that was legal), I'd buy that, too. If Ms. Marvel shows up in a Spider-Man title (which would not be so weird even without the Spider-Date; both her Jessicas — Jones and Drew — and her former sidekick Arana, have ties to Spider-Man), well, I'll be there. Which is a bit funny, since I assume the reason Spider-Man is in my Ms. Marvel is so Spider-Fans buy it.

Now. When the idea of the Spider-Date (Carol Danvers and Peter Parker going on a, yes, date-date) first came up, way back in Ms. Marvel 34, I had a few thoughts. They went like this:
(1) What?! But he's half her age. Oh, comics.
(2) This is the kind of thing that makes me think they have a board set up with characters' names they throw darts at to make up relationships.
(3) Well. It's better than Wonder Man.
That was a full year ago. The day before this Thanksgiving, I made a special run to get the Amazing Spider-Date the very day it came out (if you follow my Twitter or this blog, you know how hard that is for me). That's right, as much as I found it utterly incomprehensible, I was nonetheless excited for the Spider-Date.
Partly because it promised to be fun. Ms. Marvel, and, oh, the WHOLE OF THE MARVEL UNIVERSE has been rather Dark lately, yes? And while I rather like it, I also like a little breathing room. In a sense, that's Peter's job on the team. He's the comic relief, sure, but it's less comic and more relief. So, knowing that Carol was leaving one angst-fest (the War of Marvels) and heading for another (the return of Mystique), I was hoping for something that was simply fun. And in that, I was rewarded. Ms. Marvel 47 is entirely fun and cute.
So, let's see how it does addressing my initial reactions:
(1) What?! But he's half her age. Oh, comics.
Well, this one we can mostly throw out the window because in comic book fandom, age is relative. In my head Carol and Tony Stark are peers and Peter and Tony Stark are — not. But, first, it really is just in my head. And second, the way the issue is written, drawn, and presented, she does come off older. Not by a lot, but by enough that my head is placated.
(2) This is the kind of thing that makes me think they have a board set up with characters' names they throw darts at to make up relationships.
I seriously think this sometimes. When Lois Lane moved to Gotham to be closer to Bruce Wayne in Superman the Animated Series, for example. Or when Polaris and Colossus have a kid in X-Men: The End.
Or when Carol Danvers agreed to a date with Peter Parker.
But, Reed, and even Peter, acknowledge this. First in the recap page, presented rather adorably in Peter's POV, and then in the text. This relationship is an oddball idea. And as the action progresses it becomes clear they have no organic chemistry whatsoever. They are not capable of carrying on a conversation. Now, this is in part because Peter is nervous and Carol is socially inept. It's in part because they decide to avoid "shop talk" and when you are a superhero on the run — what else is there to talk about? Do the Avengers spend their Wednesday nights chilling at Bucky's Captain America's pad watching Top Chef? No, not so much. Are they going to talk sports? Peter's from New York and Carol's from Boston. Bad idea. The reality is Carol's married to her job (that's why the Dark Reign is so hard on her and why she was split into two separate people when she was first brought back) and Peter always has at least three jobs just to make ends meet and he still never makes ends meet (something Carol points out). They don't have a chance to do much else so they don't have much else to talk about.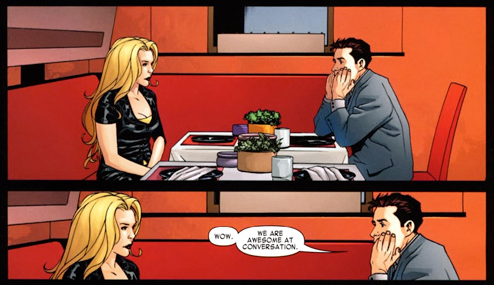 Luckily, they are interrupted by a wholly misguided arrest attempt. I love so very much that Carol Danvers is a huge threat and Peter Parker is nobody — her hapless, powerless boyfriend. I love even more that he doesn't even bother to stop eating when the bad guys show up. Carol can handle it and Peter knows.
So, with the way it's handled, the oddity of the pair up actually helps the story.
(3) Well. It's better than Wonder Man.
I admit I am not a huge fan of poor Simon Williams. I think I maybe despise him. Except when I pity him. Really, there's not many who would be worse than Wonder Man (for the record, yes, Modok is worse). But when you think about it, Carol's options are few, particularly now that she's semi-underground and random HAMMER operatives break through windows when she's on a date. Who can she safely go out with outside of the team? And inside of the team, James, Clint, Bobbi and Luke are taken. The two people she has the most chemistry with, her two BFFs Jessica Jones and Tony Stark, are also off limits. Jessica Drew … well, I have no real argument against Jessica Drew other than wow, would that be a train wreck. Left with two Spiders, she has more in common with Jessica, but that might actually be why Peter ends up being a better choice.
Now, Carol has a long history of bad relationships. Her confirmed ex-boyfriends are mostly dead — Michael Rossi, Mar-Vell, poor William Wagner. There's Marcus, which I prefer to pretend didn't happen. She has a long list of "close friends" — Logan, Nick Fury, Stephen Strange to name a few — none of which leap out at you as particularly good at romance. In short, Carol Danvers has no luck in love. And Peter has his own list of mostly dead exes and "close friends". Having no luck in love is one of his defining characteristics, or so they tell me to explain what happened with MJ; their marriage was too happy, it had to be dissolved. So we've got two theoretically lonely people, with theoretically few to no options, who are both theoretically attractive, and theoretically could be attracted to each other.
Given all that, well. It is absolutely better than Wonder Man. Theoretically.
And actually. Because it's cute. It is cute and fun and most importantly, did justice to both characters. I continue to love Brian Reed's writing. And I have to mention the art. I don't know why there are three artists who worked on this issue but Mike McKone (pages 1-12 and 14-16) is the superior. In her civilian clothes, both her jeans and a tee, and her "dressy date clothes", Carol looks like a normal, if busty, beautiful woman. I really appreciate it. And that she has a more obviously super heroine figure when she's dressed like a super heroine actually makes some sense, especially given her particular abilities.
So, there you go. Not only do I approve of this Spider-Date, I'm not even opposed to another one.
Posted by Anika
email: anika@fantasticfangirls.org
twitter: magnetgirl