In Q & A, a weekly feature of Fantastic Fangirls, we ask our staff to tackle a simple question — then open the floor to comments.
Who or what is your favorite comic book alien, or alien race?
---
Anika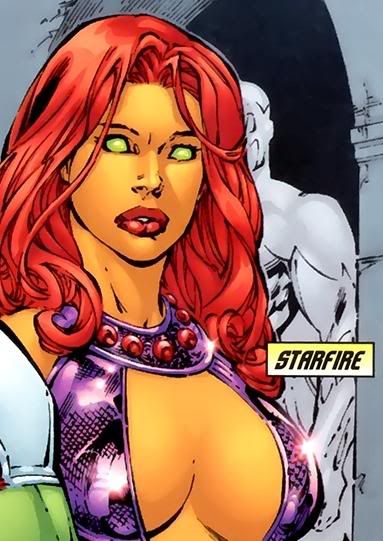 Well, Hawkgirl, but I've mentioned her before so I'll bring up another favorite: Starfire, Princess Kori'andr of Tamaran. She really deserves her own post because at first glance, Starfire comes off as so over the top you are not certain she isn't a parody. And I don't just mean her figure and lack of clothing, or her overt sexuality — her plot lines over the years have been some of the most melodramatic stories out there and we're talking comics here. But Kory is also one of the strongest and sweetest heroines there are and it is not even a contradiction. It's just Kory.
And then there's her animated counterpart. Teen Titans' Starfire is quite simply adorable. She's everything great about the comic original without any of the more controversial bits. In my nearly favorite episode How Long is Forever?, Starfire is accidentally flung 20 years into her future. There she finds a much sadder and darker world and a team that has fallen apart. Most disturbingly, her Robin has grown up into the bitter and wholly emo Nightwing. All of it is because she disappeared, and having finally reappeared, she is the one able to return order. That is the magic of Starfire. She is the Titans' sunshine and the glue that holds them together.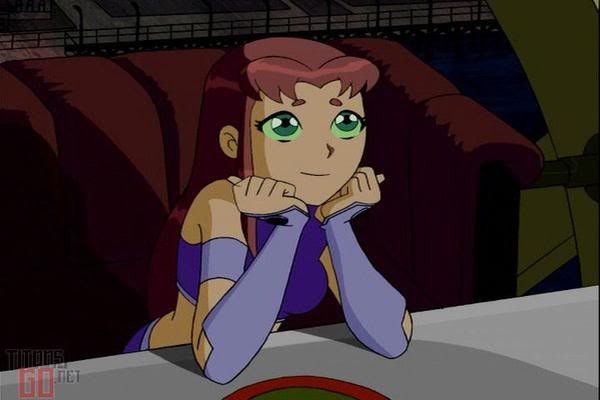 Caroline
It's not exactly a secret that I love the Starjammers. This group of space pirates/freedom fighters, often featured in Uncanny X-Men, may not technically count as a group of aliens. They've traditionally been led by Terran emigres: Christopher "Corsair" Summers, later succeeded by his son Alex aka Havok. But it's reasonable to assume that when he was fresh off of Earth, Chris Summers wouldn't have known where to point a blaster if not for his fellow (and distinctly extraterrestrial) 'Jammers: the wise-cracking lizard-like Ch'od, the Cyborg Raza, and of course the cat-skunk-lady Hepzibah, shown below in her night job as a booth babe working gun shows for furries.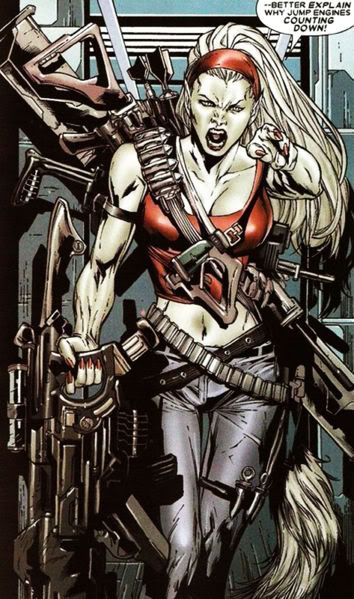 A few things to add about Hepzibah: (1) Her name isn't actually Hepzibah, but Chris Summers could not pronounce her name in her own tongue and, demonstrating the sensitivity for which his name is a byword, called her after the Summers family cat. (2) Before Corsair's death Hepzibah was, for all intents and purposes, Cyclops and Havok's stepmother. (3) Some people occasionally wonder why the Summers boys seem to have issues. (4) I really never wonder that.
---
Jennifer
Dr. Puppykicker at The ISS once perceptively pointed out that "Uncanny X-Men is about black people and gays who are straight and white, but have superpowers." That's a sad fact that has frequently been true of supernatural characters — whatever alienation and discrimination the characters are made to face in an attempt to tap into the power of metaphor, they tend to be members of what in the real world is a privileged majority. Sci-fi characters can represent non-white, non-straight, and non-Christian people — as long as they aren't actually any of those things.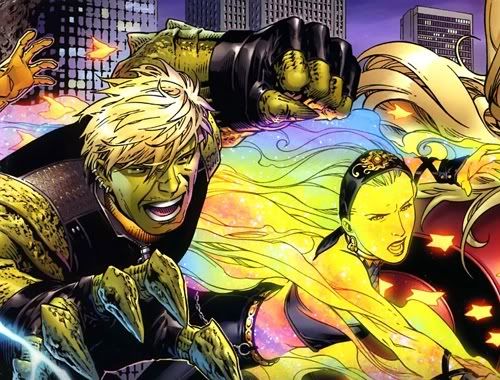 Luckily, comic book diversity has improved a lot in recent years. And that's why my two favorite Marvel aliens — I couldn't choose! — are the Runaways' Karolina Dean, a Majesdanian, and Young Avenger Teddy Altman, a Kree-Skrull hybrid. These two characters are both members of a multicultural teenage superhero team. They're both aliens. And they're also both gay. So when, upon discovering their alien heritage, they have to confront the realization that they're not who they thought they were, and that they have to accept a truth about themselves that they've never been able to admit before, it's not just a metaphor — it's a reflection of the real-world issues these characters would also face. I really appreciate the effort at diversity inherent in their creation — and it helps that they're both fantastic, well-rounded characters in their own right.
---
Sigrid
My favorite alien? Easy. Phoenix.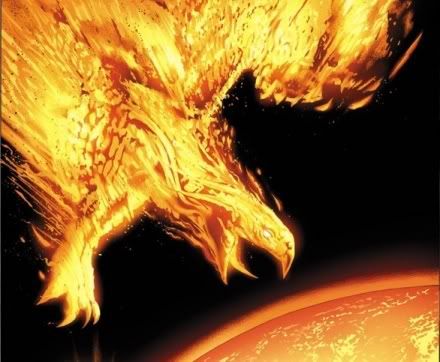 Whether it's possessing Jean, Rachel, Emma, or someone new, the Phoenix is my favorite alien. It's alien. Its goals and hungers are not on a human scale. Watching its human bearers struggle with its needs is always fascinating to me.
---
So what about you? Who or what is your favorite comic book alien, or alien race?