In Q & A, a weekly feature of Fantastic Fangirls, we ask our staff to tackle a simple question — then open the floor to comments.
This week, in honor of National Novel Writing Month, we have a special question: What book by a comic book character would you really like to read?
---
Anika

I've mentioned in an earlier Q&A, Carol Danvers is a published author. First, she wrote an angry tell all of her mistreatment by N.A.S.A. She was put in charge of "handling" the alien Mar-Vell and took it to mean befriend, romance and …accidentally absorb all his powers when he exploded. Hey, if Tony Stark did it he'd probably get a medal but Carol was transferred to the Midwest (what rockets fly out of Indiana again?) and finally forced to resign. So, she got even with a book. At a friend's suggestion I've titled it Spaced Out.
So then Carol spun her newfound fame into a magazine editorial career, most notably as editor of WOMAN Magazine, a subsidiary of The Daily Bugle, where she did quite well until J. Jonah Jameson's sexism went just that bit too far and she punched him (Hey, look! Canon back-up for the Spider-date!). So that didn't work out either — but after Rogue and the X-Men (who are a lot like Wolverine and the X-Men, only cooler) made her life a living Hell she escaped to space and turned pirate with the Starjammers (who are not, unfortunately, Freddy Mercury's other glam rock band but actual space pirates…well, you know). She ran with the Jammers for a while under the name Binary. And years later, when she was down and out in Seattle, post-rehab with nothing to do, she wrote a series of novels about those times. I've named these, too: 1: Tabula Rasa, 2: Binary, 3: The Movement of the Stars (these three together, the "first trilogy" are the most popular); 4: Find a Way or Make One (but this one is Carol's favorite), 5: Arcana Imperil, 6: Supernova.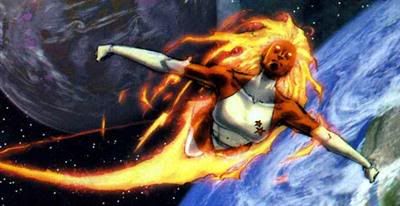 Yes, I've titled and plotted Carol Danvers' semi-autobiographical science fiction novels instead of writing my own. But I promise, if space pirates ever kidnap me, writing about it is the first thing I'll do when I return to Earth.
---
Caroline
It's possible I've spent an unhealthy amount of time (and really, what would constitute a healthy amount of time?) thinking about what the Times Book Review would look like in the Marvel Universe. Just for example, I'm fairly certain that the Marvelverse versions of Philip Roth and the late John Updike both wrote first-person novels 'imagining' the life of Magneto. Both were short-listed for the National Book Award (in different years) and a couple of the X-Men even read them: Warren Worthington because he's the kind of person who reads serious fiction short-listed for the National Book Awards, Rogue because she's intensely curious about Magneto, and Professor X for the sexy bits.
So that's the kind of thing I think about, but it doesn't count for this answer because (a) John Updike and Philip Roth are not technically comic book characters and (b) if those books existed I wouldn't really want to read them (especially not the sexy bits). On the other hand, I would like to read The Chronicle by Irene Merryweather. Irene, as I discussed in an earlier Q&A is the civilian character whose function in the Marvel Universe is to follow Cable around and write down everything he does. Irene hasn't been seen in the current Cable series, which is set in the future, but one of her descendants did show up, with the Chronicle in hand. It's encouraging to think that Irene finished her book, and wasn't daunted by the protagonist disappearing halfway through. It's the kind of thing that happens when you work with Cable. And honestly, the reason I would want to read Irene's Chronicle is not so much that I want to know everything about Cable (he's genuinely one of my favorite characters, but even his Wikipedia entry makes me cry). It's more that I expect it would gradually devolve from a serious attempt to record the life of a cybernetic Messiah-warrior from the future, into sarcastic footnotes about what it's like to work for a cybernetic Messiah-warrior from the future.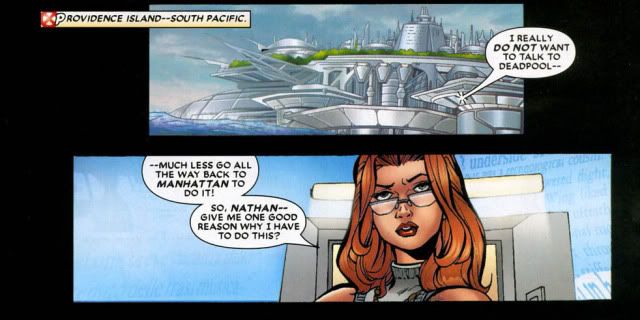 Hey, I think I just got an idea for NaNoWriMo.
---
Jennifer
I want to read the Tommy Taylor books.
For anyone who isn't reading Mike Carey's new Vertigo series The Unwritten — and in which case, you need to run out and pick it up right now — Tommy Taylor is the Harry Potter analogue in the Unwritten universe. Written by Wilson Taylor, the protagonist's father who vanished before the series began, the bestselling series is about a very special boy wizard — who may or may not be the fictional embodiment of said protagonist, Wilson's son Tom Taylor. (As you might imagine, hijinks — and murder, mystery, magic, and meditations on the power of literature — ensue.)
The concept of the Tommy Taylor books, obviously, isn't especially original. But Mike Carey's prose (one of J.K. Rowling's acknowledged weaknesses) is so fantastic that he makes me want to read these books side-by-side with the real Harry Potter books. Just check out this page — the first page of the series — and tell me you wouldn't read the book it pretends to be.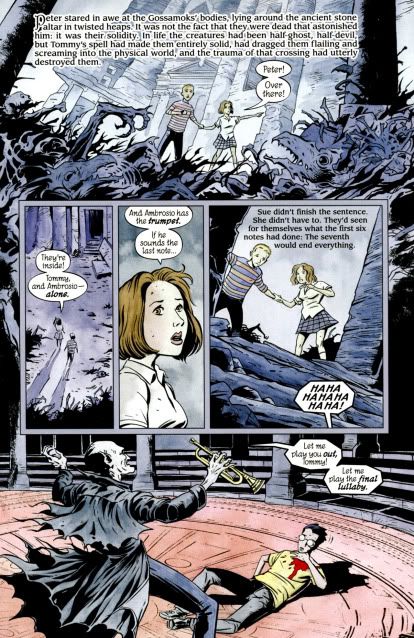 ---
Sigrid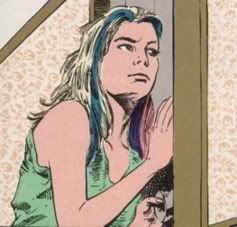 I want to read whatever sort of books Rose Walker ends up writing. I suspect her children's stories will be full of resonant truth that frightens parents, but that children love. I believe her Young Adult fiction will be rite-of-passage tales, full of loss and death that highlights the essential value and importance of every character. I believe her novels for adults will be short, tightly-written stories that leave readers weeping while they resolve to pursue life even harder. Rose Walker is perfectly poised to be a good novelist — she's experienced things that defy easy explanation and measure, things with which she would grapple in fiction the rest of her life. She's already a writer, a diarist and record-keeper. Perhaps after the birth of her first child she'll take up writing again.
---
So what about you? What book by a comic book character would you really like to read?