In Q & A, a weekly feature of Fantastic Fangirls, we ask our staff to tackle a simple question — then open the floor to comments.
What comic book character should win the Nobel Peace Prize?
---
Anika
Well, see, Superman and Captain America (or even Barack Obama, he has a comic book) are too obvious. It's not that they aren't good answers, it's just that my answer is better. Oliver Queen. Aka Green Arrow. Aka my new favorite super hero.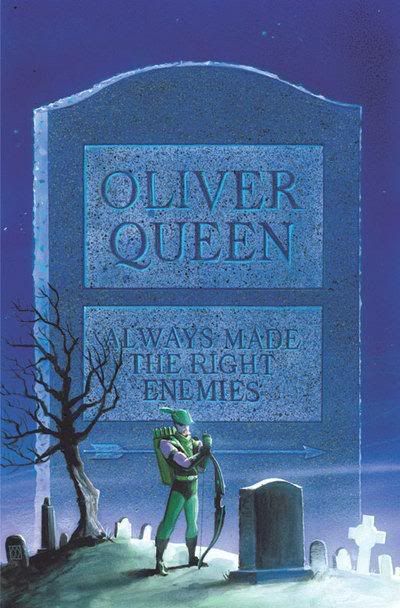 He's always been a favorite, he makes my DC Top Ten Heroes easy. And after Supes and Cap, he was my first thought. But it was only when I started looking for back-up and found this article that I figured out why he is my answer, and why he is my new favorite super hero.
I'm a big fan of super heroes. I'd hope to believe they are all working toward their version of peace, at the least. But Ollie stands out. This sentence sums it up pretty well: "Oliver Queen has a vision of heroism that encompasses societal change and concern for the most overlooked members of society, rather than just derring-do and super-heroic fisticuffs." Concern for the most overlooked members of society. He even leaves the JLA because he doesn't think they care enough about the people they are protecting. He has stood up to the other heroes — and I mean big guns like Batman, Superman and Wonder Woman — because he believes in his ideals and morals. That takes gumption, the kind that should be rewarded. Particularly when he does it to raise up the little guy and promote peace.
---
Caroline
Here's the thing about world peace: it would be very bad for superhero comics.
That's not to say there can't have been Nobel Peace Prizes awarded in the DC or Marvel universes. We have them here on Earth Prime (sorry!) and we still have our fair share of problems.
But in superhero comics, world peace would cause its own kind of trouble. Because if you don't have monsters/aliens/mad scientists launching attacks on civilization a few times a month, there wouldn't be much for our heroes to do but stand around posing and maybe play a little baseball. That's why, as everybody knows, Reed Richards is useless. If comic book supergeniuses were able to solve the world's problems, there wouldn't be much of a story.
It only makes sense, then, that characters who are portrayed as actively working for peace tend to be on the sinister side. (Seriously. Do they want Chris Claremont to be out of a job???) Adrian Veidt probably did win the Peace Prize at some point, but we as the readers know that he didn't exactly deserve it. (Probably. You can argue that point in the comments, but I'd just as soon you didn't).
I can suggest one nominee, though: Victor Von Doom. Specifically, the character as portrayed in Emperor Doom, the 1990 graphic novel by David Michelinie and Bob Hall. In this book, Dr. Doom persuades the telepathic Purple man to brainwash the world into making him emperor. And it works! Then he imposes peace. And it works! The world turns out to be better off than it was before he took over. What makes the story great is that Doom quickly realizes the meta problem with peace in a superhero comic book and abandons his benevolent reign to cause more trouble.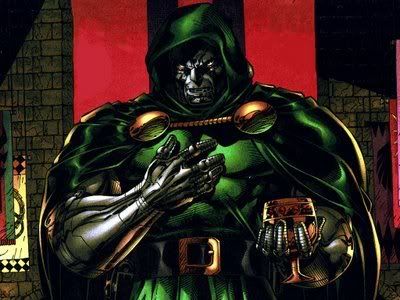 Hey. Nobody's perfect. The point is, he did it — and he didn't even need to blow up a squid.
---
Jennifer
I've had a tough week, so I'll make my answer short and sweet: Savior 28.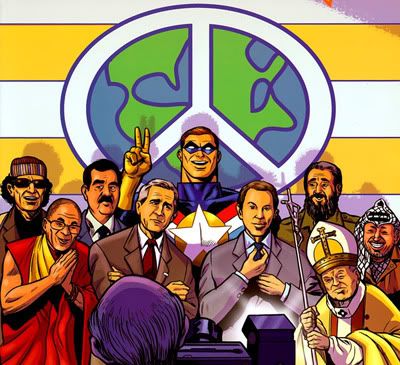 A Captain America-esque IDW character created by J.M. DeMatteis and Mike Cavallaro, Savior 28 was your average upstanding, punch-throwing hero type. That is, until he had an epiphany after 9/11: an epiphany that maybe, just maybe, there are ways to solve the world's problems that don't involve guns or fists. As a result of that realization, Savior 28 gave up his violent crimefighting and started an international peace movement, using his fame and charisma to try to lead the world to a better future. It didn't end very well for him, and he was far from a perfect man, but he still had the courage to realize that "that which is most needed is a loving heart."
When the trade paperback of this fantastic creator-owned miniseries comes out, I'll have plenty more to say about it. Until then, I'll just symbolically grant their fantastic character the prize he so richly deserves.
---
Sigrid
I was bemoaning that I didn't have an answer for this, as none of my favorite characters are really suitable Peace Prize winners. But Caroline reminded me of the closest thing I have to a candidate.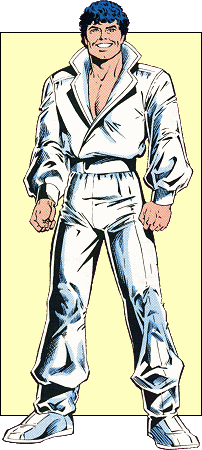 The Beyonder.
When he visited Earth (during Secret Wars 2) he — at one point — set about compelling peace. By violence and brainwashing, sure, but peace was his intention. He's about the only character whose misguided attempts to bring about world peace I can fathom — he's an alien, and didn't really know any better.
---
So what about you? What comic book character should win the Nobel Peace Prize?