In Q & A, a weekly feature of Fantastic Fangirls, we ask our staff to tackle a simple question — then open the floor to comments.
What comic book heroine would you like to see in her own solo adventures?
---
Anika
Hawkgirl.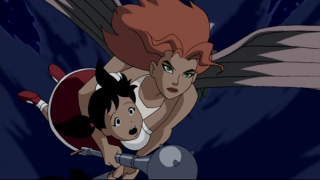 Except not the comic book version. The one from the animated adventures of the Justice League. Shayera is easily in my top ten favorite superheroes, male or female, of all time. Probably top five. She is multi-faceted and while her character arc in the series has a lot of depth, I find myself wanting more. In her own series, we could see her on Thanagar, meet the Hro she loved, before he became so jaded he's willing to blow up a planet. We could watch her watching the Justice League those five years under cover. What about the time in between leaving and returning to the League, when she's living with Aquaman (I mean, seriously, don't you want to know that story)? And Shayera has interesting relationships with everyone — her sisterly bond with Wally is adorable. Her rivalry with and respect for Diana is beautifully complicated. Why does Clark trust her? Why does she know Bruce is Batman before Wally and John do? And there is a lot more to be told in the story with John if their son ends up fighting alongside Terry McGinnis.
So, since there are zero boundaries on my answer: Shayera Hol. And she should mentor the animated Teen Titans' Terra.
THAT would be an awesome comic.
---
Caroline
I've recently read comments to the effect that Natasha Romanova, aka the Black Widow, is becoming Marvel's female answer to Wolverine. She's shown up as a character in the Iron Man and New Avengers comics, as well as Thunderbolts. She's also the current Captain America's girlfriend and partner in espionage hijinks. Even more important in achieving status as a 'big name' character, she's going to be played by Scarlett Johansson in Iron Man 2.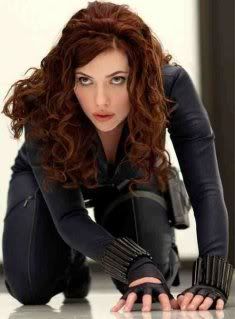 \
The one thing Natasha doesn't have? A starring role. She's had a few solo miniseries over the years, but for the most part this talented superspy, who's been kicking around the Marvel Universe since 1964, has been a supporting cast member and free-range love interest. (Hawkeye? Check. Daredevil? Check. Bucky Barnes? Check. Tony Stark? Ch — well, okay, who hasn't?) Whether in a comic, a movie, or a weekly TV series, there's plenty of opportunity for the Widow at the center of her own spy story.
---
Jennifer
While my instinct is to express my desire for a She-Hulk relaunch, I'll save those thoughts for an upcoming She-Hulk-centric post. So in this case, I'm going to go with my other favorite female character, who's never even gotten a miniseries to herself: Jean Grey.
Oh, sure, there have been Jean-related minis and story arcs. There was The Adventures of Cyclops and Phoenix… which was mainly about Cable. There was Phoenix: Endsong… which was mostly about Scott and Emma's angst. There was Phoenix: Warsong — oh, wait, she wasn't even in that one. And then there was the Dark Phoenix Saga, where she was possessed by an evil entity, mentally manipulated, and driven to suicide. Do you see where I'm going with this?
Jean Grey is a fantastic character. She's one of the first women of the Marvel Universe, the first of Xavier's students, the first female X-Man, and, at certain points in her history, the most powerful mutant in the world. And when she (inevitably) returns from the land of the dead, I want to see a book that's actually about her. A book where she's the lead, where she is corporeal and in full control of her senses and makes her own decisions. She can have the Phoenix powers — heck, I'd be happy to see the "Phoenix Corps" book my friends have discussed so frequently — but in the end, I'd want it to be Jean's story. She's earned it.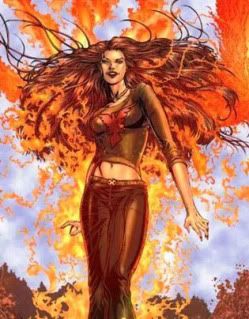 ---
Sigrid
Agent Abigail Brand.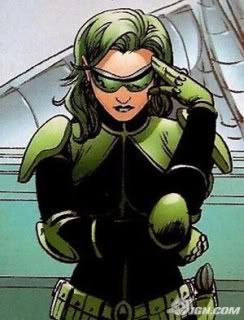 Now, I'm given to understand that Kieron Gillen's S.W.O.R.D. comic is going to give me some of that. More of Agent Brand, at least, though in an ensemble. (But what an ensemble! I can't wait.) But I haven't yet seen too much of Brand. Her brief appearance in the new Spider-Woman comic filled me with intense glee. Her snappish repartee with Hank McCoy in Astonishing X-Men — both the Whedon and the Ellis runs — makes me cackle with delight.
But none of that is why I think she'd make a good ongoing series. Agent Brand would make for a good ongoing series the way Sydney Bristow did in the television show Alias. She works for an unscrupulous agency, she's a loner by circumstance who clearly relishes close relationships, she's incredibly intelligent, committed, willful — and has an utterly hopeless job. Moreover, Brand has completely and totally failed at said job in very recent memory. She's depressed, vindictive, and willing to take crazy chances to prove to herself that she's not worthless.
What is there not to like?
---
So what about you? What comic book heroine would you like to see in her own solo adventures?