In Q & A, a weekly feature of Fantastic Fangirls, we ask our staff to tackle a simple question — then open the floor to comments.
Who is your favorite sidekick in comic books?
---
Anika
Well. Okay, fine. Caroline called me a Tim Drake Groupie and she's right, I admit it. I am a Tim Drake Groupie.
I think everyone knows how I feel about Batman. And Teen Titans. And Young Justice. And, well, Tim Drake. Basically, Robin is the archetypal sidekick, and Tim's my favorite Robin, so even if Dick is maybe the archetypal Robin, Tim wins. I could go into it…he's a smart and clever problem-solver, he's quietly heroic, he has that air of hope within sadness I'm always drawn to, etc. etc. But instead I'll share this funny little panel from a holiday themed Teen Titans story: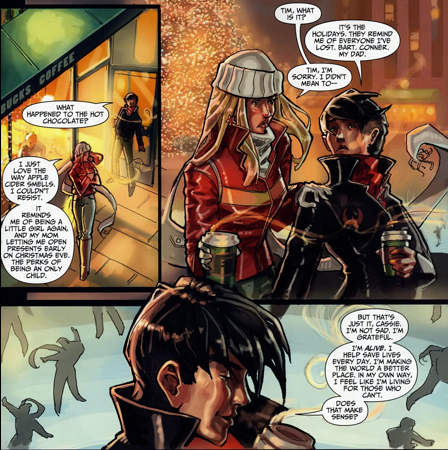 And let Cassie say it for me: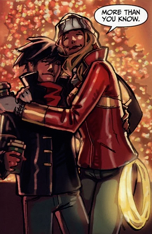 ---
Caroline
One of many things I love about Brian K. Vaughan and Tony Harris's Ex Machina is that a comic devoted to exploring and questioning the tropes of superhero stories isn't afraid to use them. So Mitchell Hundred, the engineer turned not exactly reluctant superhero turned New York City Mayor, has a loyal sidekick in Rick Bradbury. When Hundred decides to use his newfound machine-control powers (and an awesome jetpack! and a stupid flight suit!) to become America's first real superhero, ex-cop Bradbury is there to hold his gear and watch his back. When Hundred makes the leap to politics, Bradbury follows along as chief of security. You might wonder why a superhero needs a regular guy to run security for him, but seeing the characters interact it's plain enough. Hundred is a formidable combination of brilliant dreamer and pragmatic schemer, and the eternally blunt and down-to-earth Bradbury provides a much-needed counterpoint. Above all, it's clear how much he loves his mayor and hero. And even if it takes a life or death situation to get Hizzoner to say it, the feeling is pretty clearly mutual: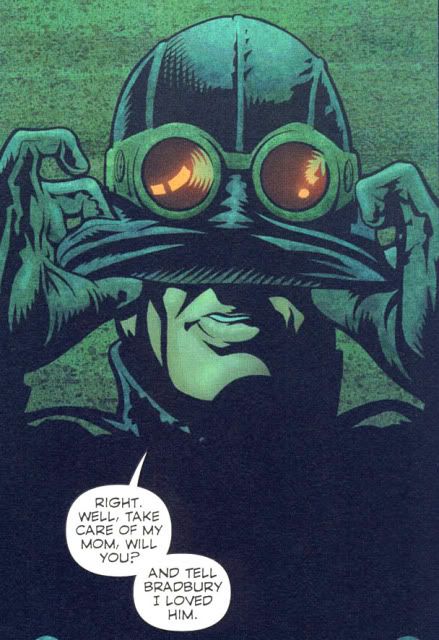 ---
Jennifer
Wolverine.
No, seriously. Have you ever read a solo Wolverine story? I'll sum it up for you: brood brood snikt snikt stab stab bub. It's all action and angst, and it tends to be… well, boring. A Wolverine on his own is a Wolverine who takes himself too seriously, and it gets old pretty fast.
But a Wolverine playing off of someone else? That's gold. Whether he's having adventures with one of his girls (Kitty, Jubilee, Hisako, Pixie, or countless others) who is clearly more competent than he is, teaming up with Spider-Man or Daredevil or Power Pack for a crossover, or bickering with Cyclops on some crazy mission, Wolverine is the best there is at what he does. And what he does is serve as an excellent sidekick.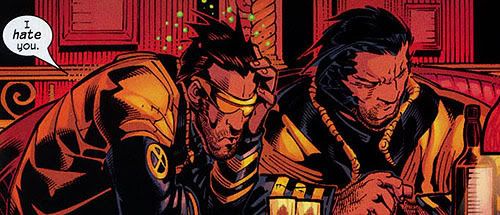 ---
Sigrid
Yep. She started as a joke, became a supporting character, spent some time as a sidekick, and matured into a central member of the cast. As I've posted previously, Casey Bullocks is my favorite sidekick.
---
So what about you? Who is your favorite sidekick in comic books?