Posted by Jennifer
In the third issue of Grant Morrison's All-Star Superman, Superman grants Lois Lane powers to match his own. For one 24-hour period, Lois has all of the strength and power of her superhero boyfriend. She can hear around the globe and see the smallest molecule; she can fly, and she's nearly impervious to injury. Filled with all of this power, she immediately tries to fight a super battle… and is instantly usurped by two male heroes who spend the rest of the issue aggressively courting her. The moral of the story is that Superman, on top of being the perfect hero, is also the perfect boyfriend, far more deserving of Lois than the other two louts. But over the course of the issue, Lois gets to use her fantastic powers for exactly one thing: wearing radioactive jewelry given to her by one of the suitors.
Needless to say, I was less than impressed.
I don't mean to slag on All-Star Superman — the other 11 issues are nothing short of brilliant. And I don't mean to slag on Lois Lane, the quintessential civilian girlfriend, who for most of her existence has been portrayed as strong, sassy, smart, and one of the best in her professional field. But this underscores the fact that women in comics have come a long way since the Silver Age stories to which Morrison's series pays tribute (and, in other issues, manages to update and subvert). To see something that's such a blatant step backwards is disheartening.
Luckily, two current creator-owned series are picking up the civilian girlfriend slack, showing us women and their relationships with their superhero boyfriends that are more The Adventures of Lois and Clark than All-Star Superman: Love and Capes and Jersey Gods.
I first discovered writer/cartoonist Thom Zahler's Love and Capes on this year's Free Comic Book day, which featured the tenth issue among the free titles. In that issue, Abby – the girlfriend of Mark, a Superman-esque hero called The Crusader – also gets her boyfriend's powers for the day. But unlike Lois, Abby displays a startling amount of agency. The powers aren't a gift, or an accident – she asks a Dr. Strange-esque hero, Dr. Karma, to give her the powers so that she can better understand the other side of her boyfriend's life. And once she has those powers, she immediately starts to use them to save people – to be a hero. Sure, she makes mistakes, but it's not because she's a woman, it's because she's new at the hero business. Once she gets her legs under her, she commits quite a few acts of heroism before suffering the hero's ultimate tragedy: failing to save someone. In the end, Abby decides that the hero life isn't quite for her, but her day as a hero isn't considered a failure, despite its sad conclusion; instead, Mark reassures her that no hero can save everyone, and shows her the dozens of thankful letters she's received from the people she did save. It's a much more satisfying gift than radioactive jewelry.
After meeting Zahler at HeroesCon (at which he chose to directly combat the sexism of IGN's infamous "boys-only" Comic-Con contest by giving a free issue of his comic to any women who stopped by), I decided to buy the trade of the first six issues of Love and Capes, as well as issue 7. After reading all of that, I started kicking myself for not picking up issues 8 and 9 as well (time to hit the back issue bins!), and I'm eagerly anticipating picking up issue 11 when it hits stores in a few weeks. The series is every bit as charming, intelligent, and progressive as the Free Comic Book Day issue made it seem, and I couldn't be happier.
Abby, from the moment we meet her, is wonderful – and who could expect anything less from a character admittedly named after Abigail Adams? Her first action in the entire comic is to point out a grammar mistake in a newspaper article, thus forever endearing her to my copy editor's heart. Sure, the scene is a bit of a joke – Abby can find the smallest typo, but she hasn't noticed that her boyfriend is a superhero – but her keen sense of observation and attention to detail becomes a key part of her characterization over the course of the series, and since she learns her boyfriend's secret in that first issue, her ignorance on that front becomes a moot point pretty quickly.
Abby is a self-employed entrepreneur, owning her own independent book store where she works with her sister, Charlotte, and though she's unlikely to ever punch someone out, that doesn't make her any less strong. She has flaws – she can be jealous and extremely picky, and her generosity is offset by moments of selfishness– but they only serve to make her feel more real . And, best of all, though most of the comic is devoted to the relationship above all else, (it isn't called Love and Capes for nothing), Abby is allowed to have her own needs and desires that have nothing to do with her boyfriend. She wants her book store to be a success; she wants to try out for a part in a play. Her entire world doesn't revolve around Mark, and though I'm as captivated by their happy, romantic comedy-esque relationship as anyone else, it's nice to know that she, like Mark, has a life beyond it.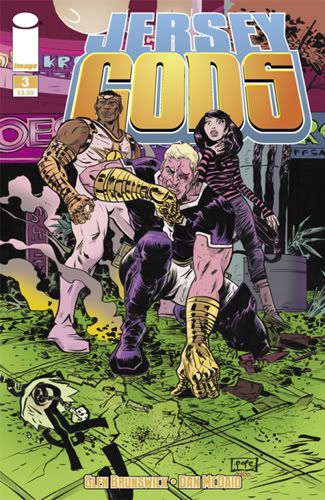 Jersey Gods is a bit different. Unlike Love and Capes, which rarely shows any of Mark's superheroics on panel, Jersey Gods, by Glen Brunswick and Dan McDaid, is very concerned with the Jack Kirby-inspired super-powered battles of its lead, extraterrestrial god Barock. But, as I said in my letter to the creators – which, in my proudest moment so far as a comic book fan, was published in issue 4: "[the sci-fi world building] isn't scary at all when there's someone relatable to serve as a conduit. By intertwining [a] very human, domestic story with your gods-and-wars-and-aliens narrative, you've made the comic as a whole much easier to follow, turning a premise that might have made me skittish into a book I look forward to eagerly each month."
This is because, for every moment of huge cosmic action, there's also another side to the books: the romance between Barock and regular Jersey Girl Zoe. As readers of this blog know, I am a Jersey Girl, and very proud of it; the reason I picked up Jersey Gods was the name and the cover to the first issue, which featured a Mike Allred drawing of the characters running up the Garden State Parkway past the sign that points to my own exit. But what I found inside was a fun but complicated sci-fi story balanced by a female lead who embodied everything I've known as a denizen of this much-maligned state. Zoe isn't a stereotype – she's just, as I said in my letter, "a normal girl who's simply getting swept up in a world larger than herself. Sure, she hangs out at malls, sits in traffic, and has a complicated relationship with New York City culture, but that doesn't stop her from being a three-dimensional individual."
Five issues into the series (the first trade paperback of which hits stores tomorrow), I still stand by these words. Zoe is smart, creative, a bit of a control freak, and eternally struggling to do the best she can with what she has. She comes into conflict with her parents, and has problems in her job as a go-to-girl (and aspiring journalist) for the fashion section for the local newspaper, but it's these very mundane issues that serve as such a brilliant contrast to the cosmic battles and illuminate Zoe's character. Her problems are given no less weight than Barock's are, and though she sometimes needs to be saved – that's how she and Barock meet in the first place – it's not because she's weak. She holds her own as best she can, brave and quick-witted in the face of danger; she simply lives a different kind of life than her alien soldier boyfriend does.
There's a lot to love about both of these comics. In addition to brilliant writing, each book features distinctive and gorgeous artwork, from Zahler's curvy cartoony figures to McDaid's Kirby-esque action panels. Both Mark and Barock also have best friends who are black men, giving the books points on the race front as well as the gender front. And both comics are just plain fun, engaging and witty and endlessly creative in their use and subversion of well-known tropes.
But what I love best about these books is their treatment of their female leads. These women, like Lois Lane and Mary Jane Watson before them, transcend the role of "the girlfriend" to become heroic, if not superheroic, characters in themselves. They're fully-realized, autonomous, and altogether refreshingly human, and there's no question in my mind why Mark and Barock – not to mention the readers – love them so unconditionally.
By Jennifer Smith
E-mail: Jennifer@fantasticfangirls.org
Twitter: throughthebrush