In Q & A, a weekly feature of Fantastic Fangirls, we ask our staff to tackle a simple question — then open the floor to comments.
What current ongoing comics storyline are you really enjoying?
---
Anika
Anika is on vacation this week.
---
Caroline
Bring on the dark!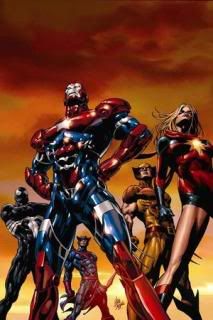 That's the last thing I thought I'd be saying last fall, when the previews for Marvel's Dark Reign era started cropping up. As the seemingly endless Secret Invasion plot worked toward its climax, there was a lot of speculation that the aftermath would have Earth under alien domination. I'd seen enough Skrulls by then, and I might have been heard to swear that when this event happened, I was dropping all my Avengers books and getting into Green Lantern or Superman or something.
I was genuinely surprised when Dark Reign turned out to be something else entirely: the ascension of former Green Goblin Norman Osborn to be, essentially, the big boss of all the superheroes. A lot of readers felt this came out of nowhere, but I wasn't one of them. I'd been following the Norman-centric Thunderbolts series, written by Warren Ellis, and later Christos Gage, and found it to be one of the most consistently fascinating stories to come out of Civil War. Ellis took the old idea of the Thunderbolts team — former villains trying to prove themselves as heroes — and put a cynical spin on it by having the insane but fascinating Osborn as the leader of the team.
When Brian Bendis's Dark Avengers launched, it turned out to be the core of Norman's Thunderbolts team — Venom, Bullseye, and Moonstone — with other characters variously conned or persuaded into joining up. Then they (essentially) kicked the real Avengers out and put on their costumes. I know that a lot of longtime Marvel fans find this concept appalling, and I can certainly roll my eyes at the trend of slapping "Dark!" on every title and trying to sell a miniseries. Yet the story that has emerged, in DA and linked books, is curiously compelling, as Norman's story gets more complex. It's been surprisingly energizing for the heroes, too. For the first time in a while, Iron Man is up against a foe who could really take him down, the Avengers have a clear human antagonist to rally against, and Spider-Man. . .well, the poor guy's still fighting the Green Goblin. Some things never change.
---
Jennifer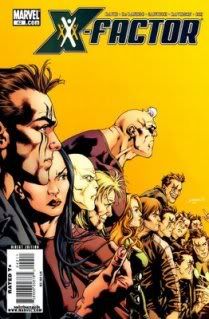 Has anyone been reading X-Factor lately? (If you're reading in trade, you might want to skip this to avoid spoilers.)
Peter David's noir take on an X-Men splinter group/detective agency has been one of my favorite ongoing comics since issue one, but ever since PAD made a public effort to give the series a renewed burst of creative energy, it's been better than ever. The characterizations have been strong, the plots consistently intriguing, and the twists and turns gasp-inducing. Every issue leaves me desperate for the next, and that's the highest praise a comic can receive.
Right now, the series is embroiled in two interconnected plots, joined together by a mysterious villain named "Cortex." In one plot, Jamie Madrox and a grown-up Layla Miller have found themselves in a dystopian future, interacting with the newest awesome addition to the Summers bloodline: Scott and Emma's future daughter, Ruby Summers. And in the present, the rest of the team (which now includes Longshot and Darwin, in possibly their most interesting appearances to date) continues to execute their jobs as private detectives, investigating "Cortex" and interacting with each other in consistently interesting and character-illuminating ways.
But I'd be remiss if I didn't mention my favorite recent part of this comic: the kiss shared between long-suspected lovers Rictor and Shatterstar. To my knowledge, this is the first romantic male/male kiss to be featured on-panel in a mainstream, in-continuity Marvel comic, and I applaud Peter David's decision to include it. Despite the progress that's been made in recent months (Batwoman is, after all, the star of Detective Comics!), there are still far too few non-heterosexual characters in mainstream comic books, and even fewer who are allowed to physically express their feelings on the page. Rictor and Shatterstar's potential relationship may only be the cherry on top of my love for X-Factor, but it's a very satisfying cherry indeed.
---
Sigrid
Well, that's pretty easy. Uncanny X-Men. Whether Greg Land, Terry Dodson, or anybody else is doing the art, I am loving Matt Fraction's X-Men.
But I would, wouldn't I? Yeah, I would — not just because I love the X-Men, though. But because, from every interview I've heard with Mr. Fraction, he and I love the exact same years and issues of X-Men and for many of the same reasons. He quit when I quit, and for many of the same reasons. And he started again when I did, ditto. For pete's sake, I heard the man say in a recent interview that the run he most strongly imprinted on was New Mutants 1-50! I love that stuff. It makes sense that, given the ability to make X-title stories, Mr. Fraction writes exactly the stories I want to see. The Red Queen, Magneto, Empath, the Hellfire Cult — all of those are great. But it's not just the plots, it's the characters and characterizations that I love. The moments of sitting around drinking coffee, of watching the news on tv together, of waking up with Scott and Emma, of going clubbing with Pixie, of rolling my eyes in sympathetic exasperation at Sam. The sense that this is a world, not just a team, and that the mutants exist down the street and around the corner from the universe I inhabit.
Everybody who sticks with these flagship serial titles for years and years develops a sense of ownership, of these are my whoevers. That's my Dick Grayson. That's my Logan. When a writer or creative team comes along who takes a different look at a character than the view you like, it's hard to stick with a title and wait it out. (That's fandom's dark cousin of entitlement, "that's not my Jean Grey, you SUCK.") But the constant truth of reading mainstream long-running comics is that things go around. New talent comes in with a blaze of new ideas, some of which you love and some you hate. And, eventually, the new creative team will love the stuff you love and will pay homage to those moments in comics that first took your breath away.
That moment, for me, is right now. And it's in Matt Fraction's Uncanny X-Men.
---
So what about you? What current ongoing comics storyline are you really enjoying?