Posted by Anika
This week Marvel Comics released a promotional image of their upcoming return to the Heroic Age.
It is, in my opinion, a highly marketed image. Meaning I bet it has less to do with the actual line-up of the New New Avengers Throwback Team, and a lot to do with getting us all talking about What Might Happen in May. My practical side believes this. My in-love-with-the-current-New-Avengers side doesn't like that picture at all. Of nine characters only two are on MY team.
I don't make Heroclix teams with winning in mind. For instance, in a game I recently played, the parameters were simple: 6 characters, 600 points, my team made up of Marvel characters only — my husband Christian would counter with DC. I build teams with characters I like best so mine was made up of Ms. Marvel, Iron Man, Spider-Man, Luke Cage, Jessica Jones … and I had 49 points left over. Well, Veteran Havok from the Mutant Mayhem set is 44 points so Alex Summers got to hang out with the Avengers for a bit. We decided on a scenario where all but one of the team was imprisoned and needed to be released before joining the fray, so I gave Havok that job. Which made me imagine it as a comic:
The Avengers are imprisoned on an alien space station and only Captain of the Starjammers HAVOK can save them! Don't miss this one-shot crossover event written by Jeff Parker with art by Paul Pelletier! AVENGERS: LOCKDOWN available February.
Okay, it's funny to me. I bet my other Fangirls would be all over that! Actually, it is a space story even I could get excited about (Dear Marvel — let's get on this!). And that is why Heroclix is so fun, win or lose.
But I do win sometimes. In the above scenario I not only won, all but one of my team (you guessed it, Havok) was still standing at the end. Now, my Ms. Marvel is widely regarded as the second-best figure in play (first place goes to Skrull Ms. Marvel, but I would never choose to play a Skrull over the real thing) so, in theory, I had the advantage. Coupled with Iron Man, they are a deadly duo and with Spidey and Jess backing them up with Perplex (+1 to attack, damage, defense or movement) they made short work of Christian's (in this particular case admittedly thrown together) team.
So he wanted a rematch, except upping the ante. He'd play a themed team, too, and chose the Dark JLA (like the Dark Avengers but in the DCU). DC characters generally have higher point values than Marvel characters and especially to build a team made up of the Dark cousins of Superman or Wonder Woman required more points. So, 1000 points, no character limit, I'm still Marvel and he's still DC. His Dark JLA was led by Lex Luthor (Batman), Mary Marvel (Wonder Woman), and Black Adam (Superman). I kept my winning team and added Polaris (Havok appreciated it) and all five Stepford Cuckoos. My reasoning was I love the Cuckoos and I hardly ever get to play all five together because I hardly ever get to play a game with such a high point value. But if you know anything about Heroclix you know that five Cuckoos, in theory, is another big advantage.

Let me explain. At the end of the day you can build the winningest team possible and still lose because of a few bad dice rolls. Which makes characters with the Probability Control ability (re-roll one die roll each turn) very attractive. My husband runs the Scarlet Witch whenever he plays a Marvel or mixed team because she is his favorite Marvel heroine and she has Probability Control. So do the Cuckoos. So properly positioned, my team could get to re-roll bad rolls four times each turn (my fifth Cuckoo, Esme, does not have Probability Control; she is more of a Mini-Emma Frost, powers wise, and actually didn't do much more than follow Iron Man around just in case he needed someone to take a hit for him). My Cuckoos could also force my husband to re-roll good (for him!) rolls four times each turn. So, yes, that's an advantage.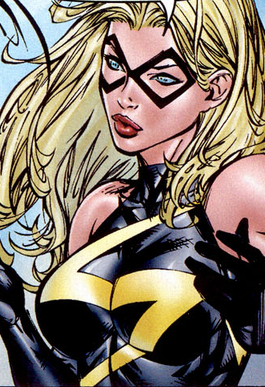 This time, Christian went after Ms. Marvel with a vengeance and even her Leap Climbing boyfriend (Peter Parker) couldn't save her from being knocked out. But it all came down to the rolls of the dice and my Cuckoos helped the team fight back without her and again I was victorious. But this post isn't meant to be about how I win (and for the record, I get beat 2/3 of the time). It is about how I play.
I play the characters over the abilities. My Havok will always, always jump in front of Polaris if she is set up to be hit, regardless of how many clicks of life either has. My Spider-Man loves to run (swing!) into danger. My Iron Man and Ms. Marvel are aggressive (Avengers Assemble!) while my Magneto hangs back (to pontificate on Mutant Rights and Moral Superiority). And my Batman is constantly leaving teammates behind to take a hit for him, believing, usually rightly, that he is the more valuable piece. But he's a real jerk about it.
And my in-character moments are not limited to actions I can control. Mystique has the ability to Shapechange, which allows her player a roll whenever she is targeted; on a 5 or 6 the attack cannot be made. In one memorable encounter my Luke Cage moved in to attack Mystique, Christian cried out that she transformed into Jessica Jones — but he missed the roll and Luke saw through the disguise declaring he knows his woman, woman!. My next attack came from Carol, but she has Severe Mystique Issues and this time Christian made the roll, saying she transformed into whoever Carol is in love with. I told him she could stay Jessica and ran Carol off to attack someone else.
The end result of all this is no matter who wins or how the game plays out, it makes for a fun story and that makes for a fun game. And sometimes the story is so fun it turns into a Comic I Wish I Could Read, like the above idea starring the Starjammers and the Avengers. Imagine if our favorite industry creators played a game and based the plot of their next comic on the outcome. I mean, sometimes I read an issue and think that is the only explanation! But it wouldn't bother me if it was true; it would make me happy. Everyone's creative process is different. People, professional or not, are inspired by music, art, hair styles, news feeds, rain clouds, toddlers' mispronunciations, Twitter feeds, LOLcats, boots, condensation on a glass, celebrities, neighbors, movies, quotes, umbrellas, bus stops, reality, fantasy, comic books and board games. And everything in between. My interaction with comic books is not limited to the solicitations from Diamond each month — comic book culture is much broader and more interactive than one traditionally thinks. So whatever the final line-up of the New New Avengers Throwback Team actually is, I can play my own line-up of the characters I love best, and I can make up their stories. And just as Peter Parker is now a mainstay on my Avengers team (thank you, Brian Bendis), and sometimes gets to date Carol Danvers (thank you, Brian Reed), I expect the New Heroic Age, no matter how it enfolds, will inspire me, too.
Posted by Anika
email: anika@fantasticfangirls.org
twitter: magnetgirl