If you've been following my writing at all for the past year, you know that few books inspire such a passionate response from me as Fearless Defenders (check out everything in the tag, if you want a refresher). From joy, to childlike glee, to anger and disappointment, in only twelve issues this book has evoked so much emotion.
Today that emotion is sadness.
With issue twelve, Fearless Defenders, possibly one of the most progressive comic books ever released (certainly one of the most progressive superhero books, certainly one of the most progressive books from one of the Big Two publishers) comes to an end. Marvel cancelled it because of low sales. That's a gripe for another day, considering the seven hundred Avengers books and the titles that I'm really shocked people read (to each their own), and considering the fact that everyone I know reads this book (not that that's a lot of people). The point is it's over, and it ended the way it's been the whole time: awesomely.
From the cover, yet another of Mark Brooks' fantastic homages to genre storytelling – this time flipping romance novel tropes on their heads, with two women on the front cover, the physically stronger cradled by the previous shrinking violet -  through the last page, issue twelve doesn't disappoint. There's even a great scene with Val and Annabelle that made me flail. I wish we could see the Annabelle/Ren/Val romance develop, but alas.
Alas is a good word. This is a bittersweet ending. Here's this great book, featuring several women of color, several queer women, and a whole bunch of female superheroes. It doesn't ignore men's existence, nor does it treat them like bumbling idiots. And it had a cool storyline: Valkyrie gathering some new shield-maidens. And now it's over. And that's really sad, even if these characters somehow continue on in the Marvel universe in other books. This is their book, and it's their story. And it's especially the story of Annabelle Riggs, who likes girls and transforms into a capable hero in her own right.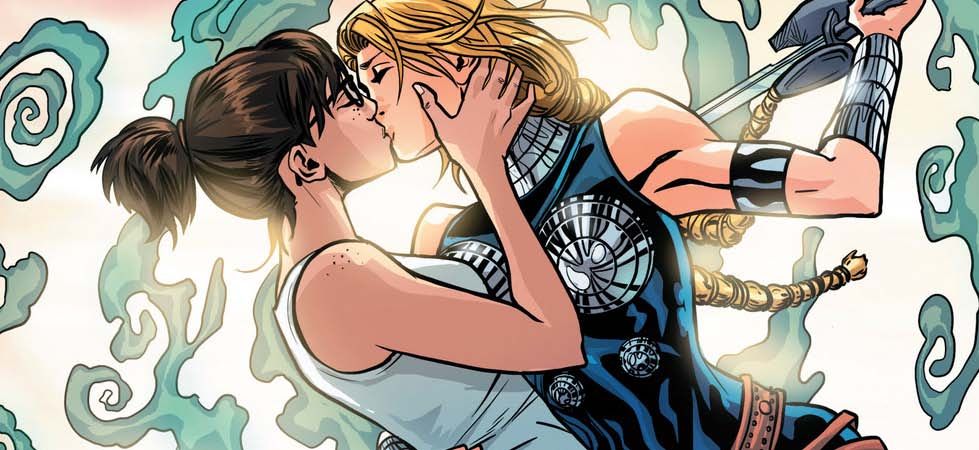 I grew up reading about guys who were superheroes (and also Archie). When I branched out as a teenager and started reading more comics involving women (who were not Betty and Veronica, who, at the time, mostly fought over Archie), all of those women were women who fell in love with men. It's hard to explain what it means to lack representation in a beloved form of media, but it's the kind of hurt that you subconsciously internalize. It has nothing to do with whether a story is universal, because of course the best stories are, and of course I enjoy them, but it's about this idea that my life somehow can't be one of those universal stories. That our continued invisibility is somehow more normal, more relatable, than our existence.
And here's why I will miss Fearless Defenders: it's a book that flies in the face of that idea. It's a team that's full to the brim of the kind of people who don't get their stories told, the kind who play along with the big boys and occasionally get an issue of character development, if they're lucky. It's a book that has women of color because women of color exist and they can be superheroes. It has queer women because queer women exist and they can be superheroes. And in a world full of teams that are mostly men (despite the fact that the world isn't mostly men anymore), very often white (same), and 99% straight (don't even get me started), Fearless Defenders is a book we need. And it's a book everyone should miss. I know I will.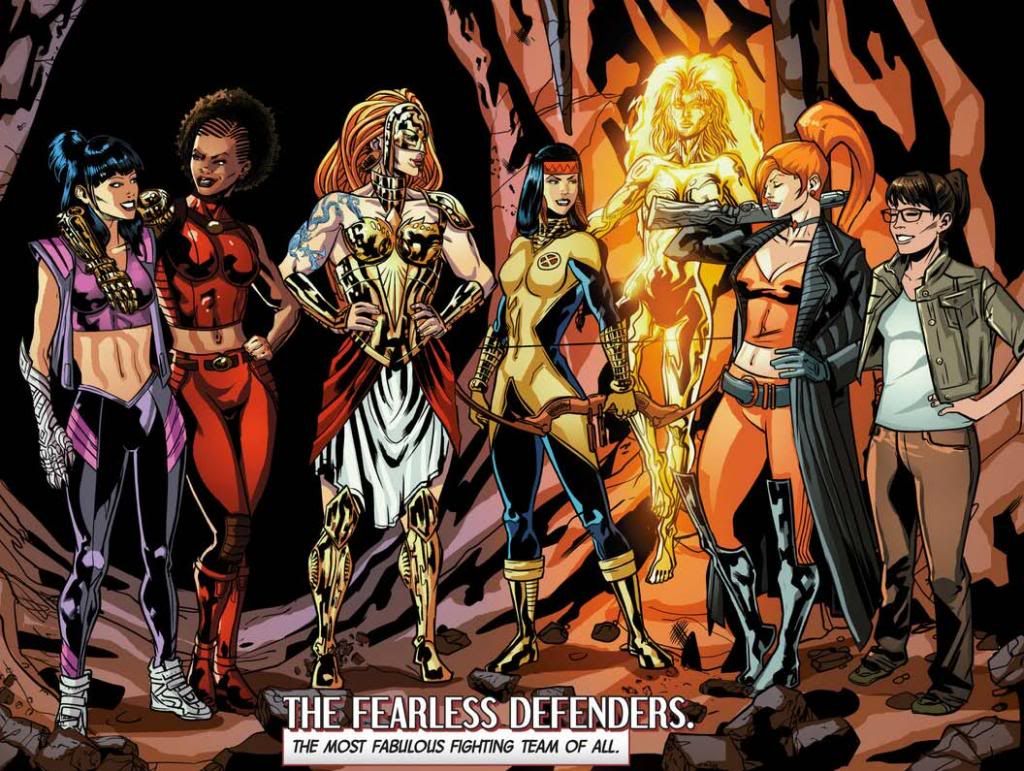 So long, ladies.
And thank you to the creators of this book: Cullen Bunn, Will Sliney, Mark Brooks, Veronica Gandini, and Ellie Pyle. Thanks for making it, and thanks for being there not only when the fans were happy, but when we were angry, too. This was the first book that ever inspired me to write a letter the editor, and this was when I started interacting with comic creators on social media. Not only that, but the book is fun and engaging. Also there was a dance issue. Never forget the dance issue.
Stay Fearless.