by Marie
First, what is shoujo manga?
I've always been called a Girly Girl.
True, I like dresses. I like make-up. I like shoes. I like waving my arms around to catchy pop songs (because I don't really know how to dance). I also like glitter and I'm not afraid to admit it—at least, not anymore.
In middle school, I walked around with a plastic Spice Girls pencil case and a Lisa Frank trapper keeper (mine had the unicorn). It was a time when the phrase "Girl Power" was said without irony. I wore big-ass bows in my hair and I was also still shamelessly into Disney princesses. Like I mentioned in a previous article, I can still recite the entire script of Beauty and the Beast verbatim. It wasn't exactly my best party trick, but then I didn't have many party tricks to begin with—or parties to go to.
It doesn't take a genius to calculate how much I was picked on for enjoying the things that made me happy. To continue with that metaphor, the torture was exponential. So in the midst of my adolescent angst, I turned to shoujo for refuge. Finally, I thought. Here was a genre that not only "got me", but validated who I was at the time. At first glance, shoujo seems to be the epitome of what can be culturally considered as "Girly." Young girls are, after all, its target demographic. Just as young boys are the target demographic of shounen.
When some people think "Girly Girl", they usually think "vain and shallow." Girly Girls tend to be the Mean Girls in teen dramas: they're superficial, territorial, and ultimately ineffectual. They're vacuous in that they tend not to think beyond managing their image. Their antics are childish and so are their goals.
Now, this doesn't mean that I'm vilifying anyone that's not considered "Girly Girl." In fact, I find the term "Tomboy" as equally off-putting. I'm just saying that the subject of femininity is an arena that goes beyond petty labels—and that such labels shouldn't exist in the first place. Can't girls just be who they are whether they're into the "cutesy" stuff or not?
Shoujo was what first brought me to that conclusion.
What is Magical Girl manga?
My initial foray into shoujo was Sailor Moon, which is often considered as the title that popularized the Magical Girl subgenre and brought it to the West. Sailor Moon really deserves a post of its own—and it will during one of our next Skipping to Conclusions series! But for now, the main focus of this post will be on the Magical Girl subgenre itself, since I consider it one of shoujo's most easily recognized icons.
In a lot of ways, the Magical Girl subgenre could be viewed as an insult to young girls. Its critics usually pan it for all the "cutesy" weird stuff: bright colors, cheesy pop songs, over the top costumes, campy dialogue, talking animals, and unusually well endowed twelve-year-olds. And yea, I can't argue that there's some pretty bad stuff out there. But isn't that true of all genres (or subgenres for that matter)?
The point is, there's some good stuff out there too—and I consider it my duty to list them off throughout this roundup series and represent them properly.
So what exactly are the characteristics of Magical Girl manga? For starters, there's usually:
A young heroine or group of young heroines.
An emphasis on friendship and its ability to sustain.
Magic and/or a transformation; an alter-ego.
According to Wikipedia, Magical Girls can generally be divided into four archetypes:
The Cute Witch.
The Idol Performer.
The Warrior Woman.
The Phantom Thief.
The next titles I plan to talk about fall under the Warrior Woman archetype. While this action-oriented archetype could easily be dismissed as "Barbie with a Sword"—which would actually be kind of awesome—there's a lot more to it than that. Whatever superhuman abilities the Warrior Woman has, she is paradoxically the most emotionally vulnerable. Her "transformation" is not so much about quirkily named attacks as it is about finding inner-strength. This is further complicated by the fact that more often than not, her "transformation" was never intentional but the result of an accident. Therefore, the first title I'd like to introduce is:
Revolutionary Girl Utena
This series follows its titular character Utena who, after a life-altering encounter with a valiant prince, makes it her dream to marry one.
Just kidding.
What actually happens is that she decides to become a valiant prince. With this goal in mind, she transfers to the prestigious Ohtori Academy where her ambitions become entangled with swordfights, storybook characters, and a nefarious student council that holds the secret to a world-changing power. You know, typical high school stuff.
But don't be fooled by the short shorts and the long pink hair. Utena establishes herself as a formidable opponent, both as a duelist and as a loyal friend. As a protagonist, she appears to embody both feminine and masculine traits. This also manifests itself in the way that she dresses, since she insists on wearing a male uniform at school.
One of the inciting incidents in the first volume is Utena's attainment of the "Sword of Dios" and her engagement to Anshii Himemiya, the "Rose Bride." Her connection to both can grant her the power to revolutionize the world, as long as she can defend her title from other duelists. But her connection to both is unwitting and before she knows it, she's caught up in a game she had no intention of playing.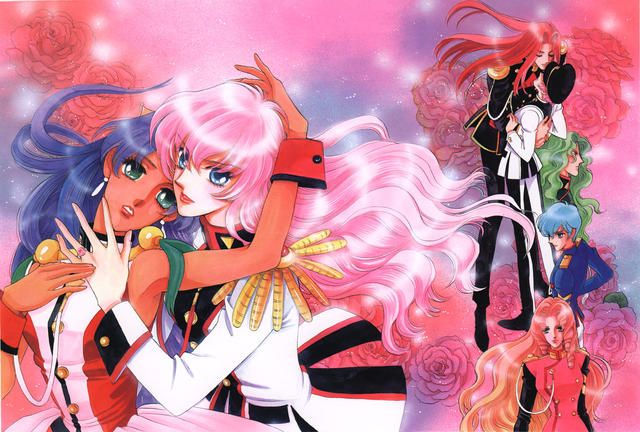 Suffice to say, the topics of gender and sexuality have a kind of fluid, even omniscient presence throughout the series. In fact, the series itself is can be considered highly allegorical and metaphysical—especially in later arcs. But rather than take away focus from the story, I think these topics add more depth. There are many examples of complex issues. For instance, Anshii Himemiya is an extremely shy and passive student that considers herself a possession. She resigns herself to obeying whoever happens to "win" her without question. Obviously, this goes against Utena's chivalrous principles and becomes one of the many obstacles in her quest to emulate the prince she admires so deeply.
That being said, I feel that Revolutionary Girl Utena is also an extremely subversive title. In many ways, it works to deconstruct not only the Magical Girl genre, but also the entirety of shoujo. Yet in doing so, this title still adds many layers in the form of providing different perspectives. Regardless, it's definitely one that I would recommend.
Magic Knight Rayearth
So now that I've had a chance to talk about female princes, it only makes sense that I mention female knights too. And make no mistake: these are girls with a destiny. In the same vein as Utena, these knights are tasked with saving a princess as well as a world on the brink of destruction. Dramatic, insensate, and apocalyptic evil tend to be a common trope in many Magical Girl titles. Ornately crafted armor that seems in tune with some kind of element is also a common trope, as seen below: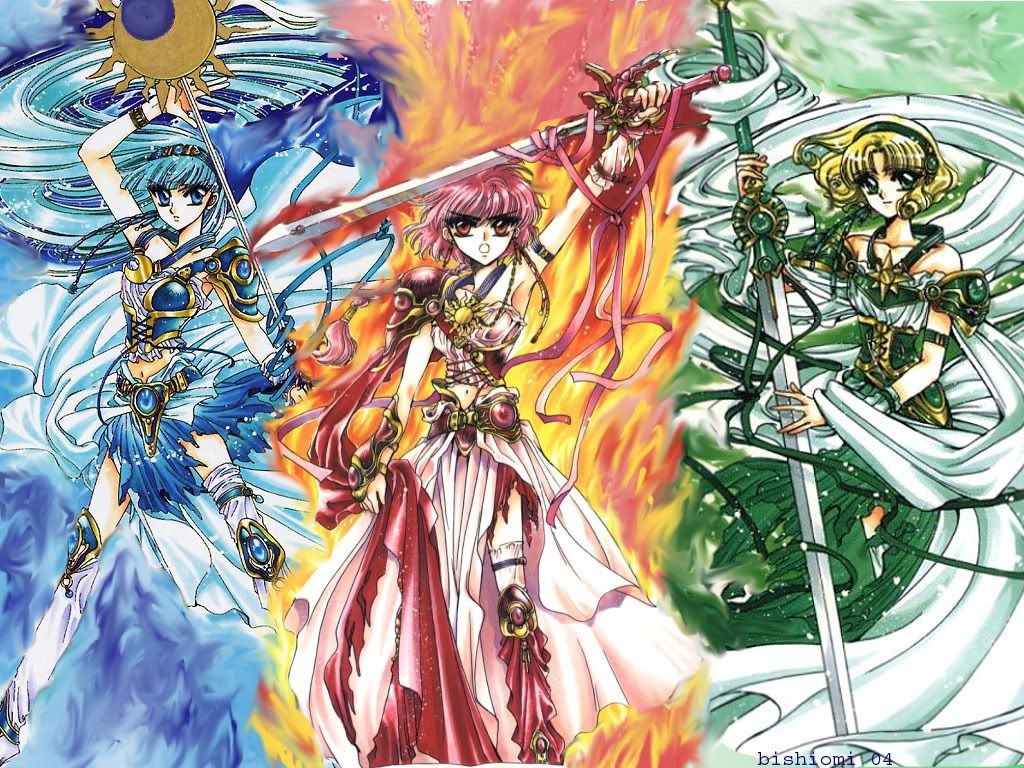 On a tangential note, I love the manga-creator team, CLAMP for a number of reasons. Not the least of which was their most popular title Cardcaptor Sakura—whom I will also hopefully get to comment on in future posts! But since Magic Knight Rayearth was my first introduction to the ever-expanding CLAMPverse, I felt that I couldn't resist. In any case, what follows is the annotated version of the plot.
The story follows three protagonists: Hikaru, Fuu, and Umi. Initially, the girls aren't even friends and don't even go to the same school. They just happen to run into one another on a school field trip. Out of nowhere, they are swallowed by a strange light and are spirited away to the world of Cephiro. Here, the three girls discover that they are the Magic Knights of Legend and that they were summoned by Cephiro's princess to help save her dying world.
From left to right: Fuu, Umi, and Hikaru.
Remember how I mentioned a dramatic, insensate, and apocalyptic evil tends to be a common trope? Ever stop and think why this evil tends to pitted against a bunch of high school girls? In fact, when the villain first catches wind of their presence, he calls them "a bunch of children." Even allies call them this. But I think one of the most compelling elements of the Magical Girl genre is the staggering odds the main characters often face, yet somehow are able overcome. They mature throughout their arcs, but maintain their innocence.
Moreover, this is one of those titles that emphasize female friendships, rather than female rivalries. This is also something that I think the Magical Girl genre does very well, especially when the main characters form a team (sometimes colloquially referred to as senshi, Hikaru, Fuu, and Umi each have their own distinct personalities and balance each other out fairly well. In other words, you can regard them all as equals and what's not to like about that?
So In Conclusion…
I'll admit that both of these titles are little "out-of-the-box" in that they mix elements from other genres such as Mecha and Parallel World Fantasy. One could even argue that these shows succeed because they incorporate more shounen elements than they do shoujo. This month, I plan to post on something more "traditional", whether it be a title like Pretty Cure or Tokyo Mew Mew. Like I mentioned earlier, my next post under our Skipping to Conclusions series will involve the reboot of Sailor Moon. So stay tuned!
In the meantime, I would love to hear what your favorite Magical Girl titles are.