Posted by Caroline
Jean Grey lives.
Take a second to think about that. It's 2013 and there's an in-continuity, main universe Marvel comic that comes out (at least) every month, with Jean Grey as a major character. Now, if you haven't been a devotee of the X-Men for the past decade or so, you might not even know why that's weird. But I came on board as a Marvel reader in 2006 and promptly burned through enough X-Men back issues to realize that Jean Grey was and would always be the X-Men character of my heart. I also suffered through enough editorial teases that I resigned myself to believing the character was dead and would always stay that way.
In fact, as these infamous panels from Grant Morrison and Phil Jimenez's New X-Men series brutally pointed out, being dead was the main thing that the Jean Grey of 2003-2012 was famous for: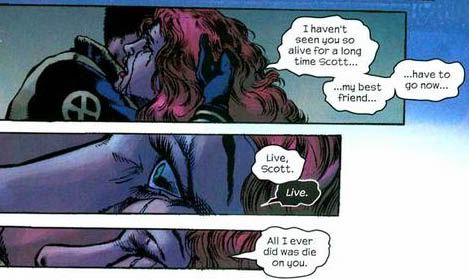 Then, in 2012, Marvel launched All New X-Men, a series by writer Brian Michael Bendis and artist Stuart Immonen that completely changed the paradigm. In this comic, Jean 'stayed dead' per status quo. But, in a twist, the original five teenage X-Men (much as portrayed in Jeff Parker's late, lamented X-Men First Class comic, not be confused with the XMFC movie) traveled through time to join the present-day Marvel universe. Four of the teen X-Men (Iceman, Cyclops, Beast, and Angel) were faced with their adult selves, generating varying degrees of shock at what they had become. The remaining team member, Jean, faced an even more sobering discovery: the fact of her own death.
I've mentioned here and there that I've been loving this comic. It's exciting on both a single issue and a long-arc basis, it's often funny, Bendis and Immonen as a writer artist pairing are an absolute dream, and the characterizations are right on point. As a Jean fan, it's hard to ask for a better tribute to the character than this page: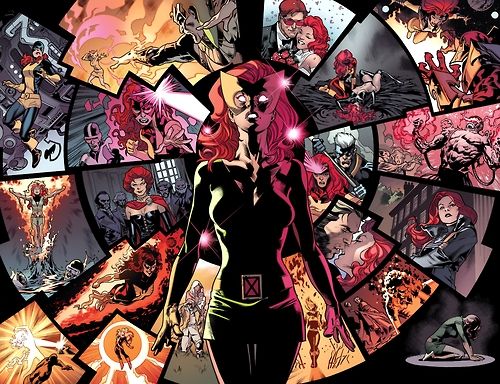 Still, as happy as this comic has been making me, I've come to realize that I've been holding something back. As much as I've been loving it, All New X-Men hasn't quite been filling the hole in my heart that I would expect a book about my favorite character by two of my favorite creators to occupy. And that, I realized with a bang last week, is because I've been waiting for the inevitable.
"The inevitable" in this case is not the return of the X-teens to their original timeline. Common sense dictates that will have to happen, sooner or later, probably with some mindwipe plot device to keep them from changing the future. But if there's one thing modern comics are good at, it is stretching a story across as many issues as (frankly, usually, more issues than) it needs. Bendis and company have already gotten a year's worth of stories out of this premise, and there is plenty of room for more. If I'm still enthused enough about this storyline when it comes to an end to be sad, that will be a victory.
No, the inevitability I was expecting (without even realizing it) was the thing that happened at the end of issue 13. Young Jean crossed paths with Lady Mastermind, daughter of Mastermind, the villain who brainwashed and traumatized Jean back in the Chris Claremont/John Byrne days, unleashing the worlds-destroying Phoenix. I've had lots to say about the Dark Phoenix Saga before. My feelings about the story are very divided. It's given a lot of interesting material to the X-Men franchise over the years. It's been an amazing asset to Jean Grey's character development at times, but a huge obstacle at others. The fame of Jean's greatest storyline, with its cycle of enormous power leading to insanity and destruction, has sometimes overshadowed her ability to be in a story that's about anything else. Part of the genius, I had thought, of the decision to bring back Jean in her teen (pre-Phoenix) form was the opportunity to explore the essence of her character when she wasn't being the Phoenix. But, I wondered, how long would Marvel be able to resist?
So at the end of issue 13, this happened: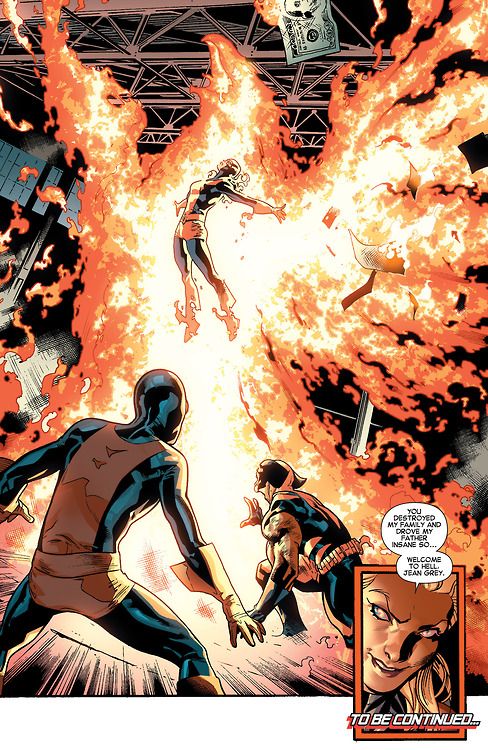 Then issue 14 came along and it had a picture of Jean and the original Mastermind on the cover. Apprehensive, I opened the issue and. . .
[spoilers for All New X-Men #14]
. . . on the first page, Jean-as-Phoenix hovered in the air, pointing an accusing finger at her antagonists. Lady Mastermind coached, "Burn them. Burn them all." Wolverine popped his claws and, over teen Cyclops's objection, lunged toward Jean, as he always does, because putting down an out-of-control Phoenix has been Wolvie's self-imposed duty for 30 years and counting.
At this point, I was ready to throw the comic across the room. "This crap?" I grumbled. "This crap, again!? Why even bother to bring back pre-Phoenix Jean and hey this is pre-Phoenix Jean, they just fought the stupid Phoenix in another stupid crossover, this doesn't even make sense by their own continuity, Marvel is getting a STRONGLY WORDED LETTER from me and. . . "
In other words, I fell for it. I was yelling just the things at this comic that — I am convinced — the creators and editors of this comic wanted me to yell. Then I turned the page.
At which point, the Phoenix disappeared and Jean yelled, "Hey, not cool!" as Wolverine lunged at her. Then teenage Jean, in her First Class uniform, kicked Mystique in the face and everything was wonderful. This Jean, you see, had heard so much about the Phoenix that she was attempting a fakeout, using the image to freak out her enemies. When that failed, she resorted to good old fashioned facekicking. Immonen drew a great fight scene and Bendis wrote great banter, culminating in a sheepish Jean saying, "I'm really sorry about the Dark Phoenix thing."
Then, for a stab-in-the-heart of a last page, the issue ends with Jean sitting by herself on the basketball court of the school that now bears her name. She rests her chin on her knees, a pensive look on her face, and imagines herself as the Phoenix. As a powerful, beautiful creature that strikes fear into the hearts of her foes. As a dangerous menace that prompts attacks from her closest friends. All we know right now is that Jean is thinking about it. How much of her reflection is fear of what she could do? How much of it is desire for what she might still become? How much is sadness for the life she may never get to live? It must be all of that. And maybe, there's just a bit of Jean trying to figure out how to contain this great power, how to find another way.
Finally, 14 issues into this series, I am all in. This is my favorite current comic, the comic I've been wanting to read for years without knowing I wanted it, and I'm willing to follow wherever it goes. Because Bendis really gets it. He understands the importance of Jean Grey as not just a resurrection tease to throw on a cover for gullible fans, not just a grief fetish object for the dudes in her life to brawl over. Just Jean — the hero of her own story.
Jean is dead. Long live Jean.