by Ali
This weekend I went to fabulous Las Vegas, Nevada for MorrisonCon–a unique comic convention celebrating the work of comics rock star Grant Morrison. I was mostly there for fun, but I had the pleasure of doing a little bit of reporting for MTV Geek.
I've gone to at least a dozen comic conventions in spots all over the country. But MorrisonCon was a very different kind of con, and I was a little bit intimidating being there in a more professional capacity.
My personal goal for the show was to present myself like this: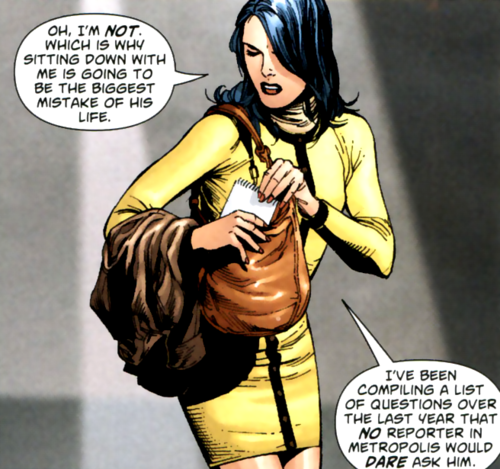 I felt like this: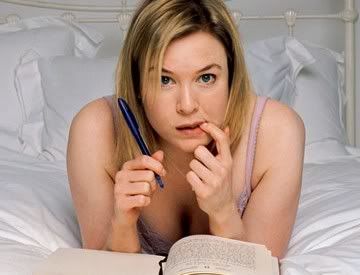 But in actuality, I probably looked like this:
But that's way more than enough about me. You're here to learn about MorrisonCon.
SATURDAY
I wasn't really sure what to expect. The show was always meant to be an intimate affair with easy access to the creators; but it was also an exclusive and closely curated show. It had a lot of potential to be pretentious. And I am so very, very happy to report that it was nothing at all like that (ok, maybe Morrison's spoken-word performance was a bit on the self indulgent side). MorrisonCon was incredibly laid back and chill, which made it a lot of fun.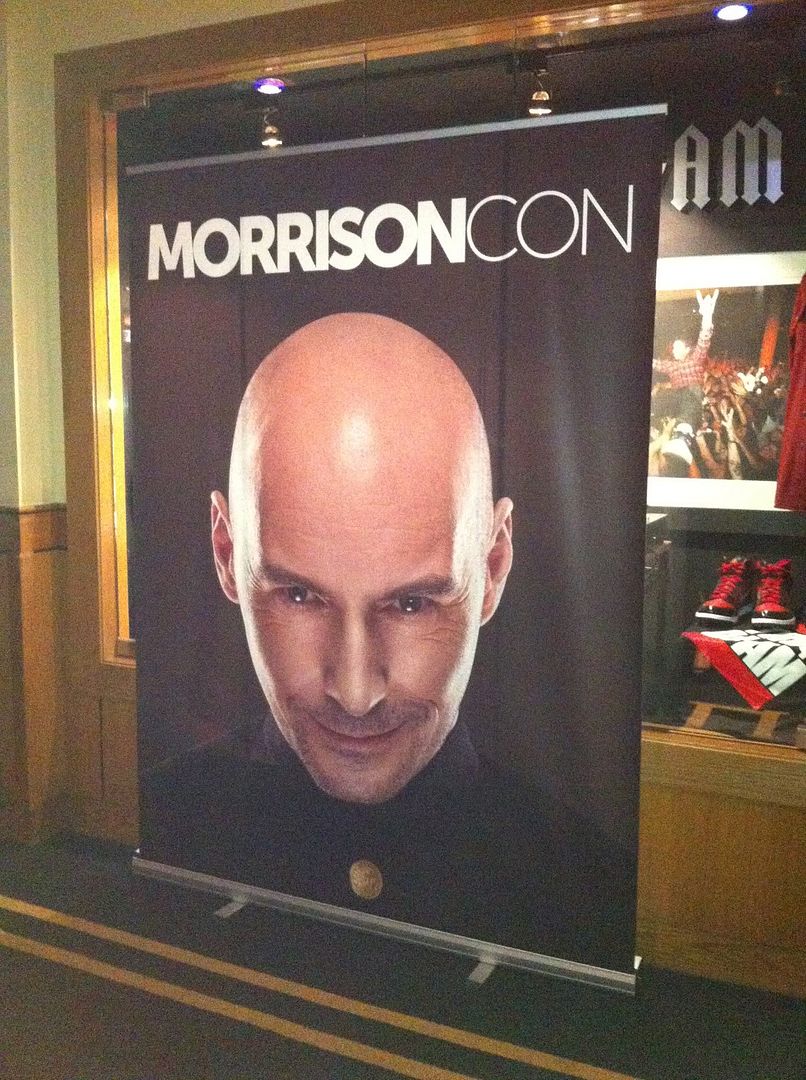 Saturday was my "panel day". The panels were really awesome because the stage was set up like a talk show instead of traditional con panels. There were big cushy couches and people just kind of passed their microphones around. Basically, if Grant Morrison had late night talk show, this is what it would look like.
Speaking of G-Mo, late last week I found out that I would be interviewing Grant Morrison for MTV Geek about his long-awaited Multiversity project. This is pretty much what was running through the back of my head all day Saturday: AAAAAAAH!!! I'M INTERVIEWING GRANT FREAKING MORRISON!!! Several happy dances and a minor nervous freak out later, I think I handled myself pretty well in the interview. He's, unsurprisingly, a super cool guy who just adores comics and superheroes.
Back to the panels! The conversations were loose and funny and interesting, and all over the place in the best way possible. The afternoon went from a lively and hilarious conversation about zombie movies with Robert Kirkman and Max Landis to a more quiet and heady conversation about science and religion in fiction with Jonathan Hickman and Jason Aaron. I mean, how awesome is that!
At one point, during the conversation about comics and movies, Max Landis totally fanboyed out about The Boys–he was having ALL OF THE OPINIONS. But it was kind of awesome and adorable to see someone on a panel get that worked up and passionate about something (btw, because I had to google him, Max Landis is the dude who did that hilarious Death and Return of Superman video. apparently he did that Chronicle kids-with-superpowers movie too.)
Anyway!
The only problem I had with the programming–and really the only problem I had with MorrisonCon on the whole–was it's serious lack of women. All of the creators and special guests were men. Kirsten Baldock, one of the event organizers, moderated a couple panels but she was the only female presence on the stage. MorrisonCon could have been a fantastic opportunity for "panel parity"–i.e., having as many women on a panel as men. Like I said, I go to a lot of conventions so I know that this hardly ever comes close to happening. But for a show that was so different from everything else out there, it would have been really nice to see at least a couple female voices.
The day was incredibly awesome but a bit overwhelming. I must be getting a bit old and curmudgeonly because after grabbing dinner with a big group of friends, I pulled a Rory Gilmore and went to my room to read by myself for a bit (as opposed to mooning over Jess until Dean breaks up with me at the 24-hour dance marathon). But I made myself go down to the club for the afterparty since that was part of what this con was all about. There was dancing and expensive drinks and shenanigans, but after an hour I swapped out the raucous club for a quiet chat about comics with friends over bourbon.
SUNDAY
We got free breakfast Sunday!! No matter how old or curmudgeonly I get, I will always love free food.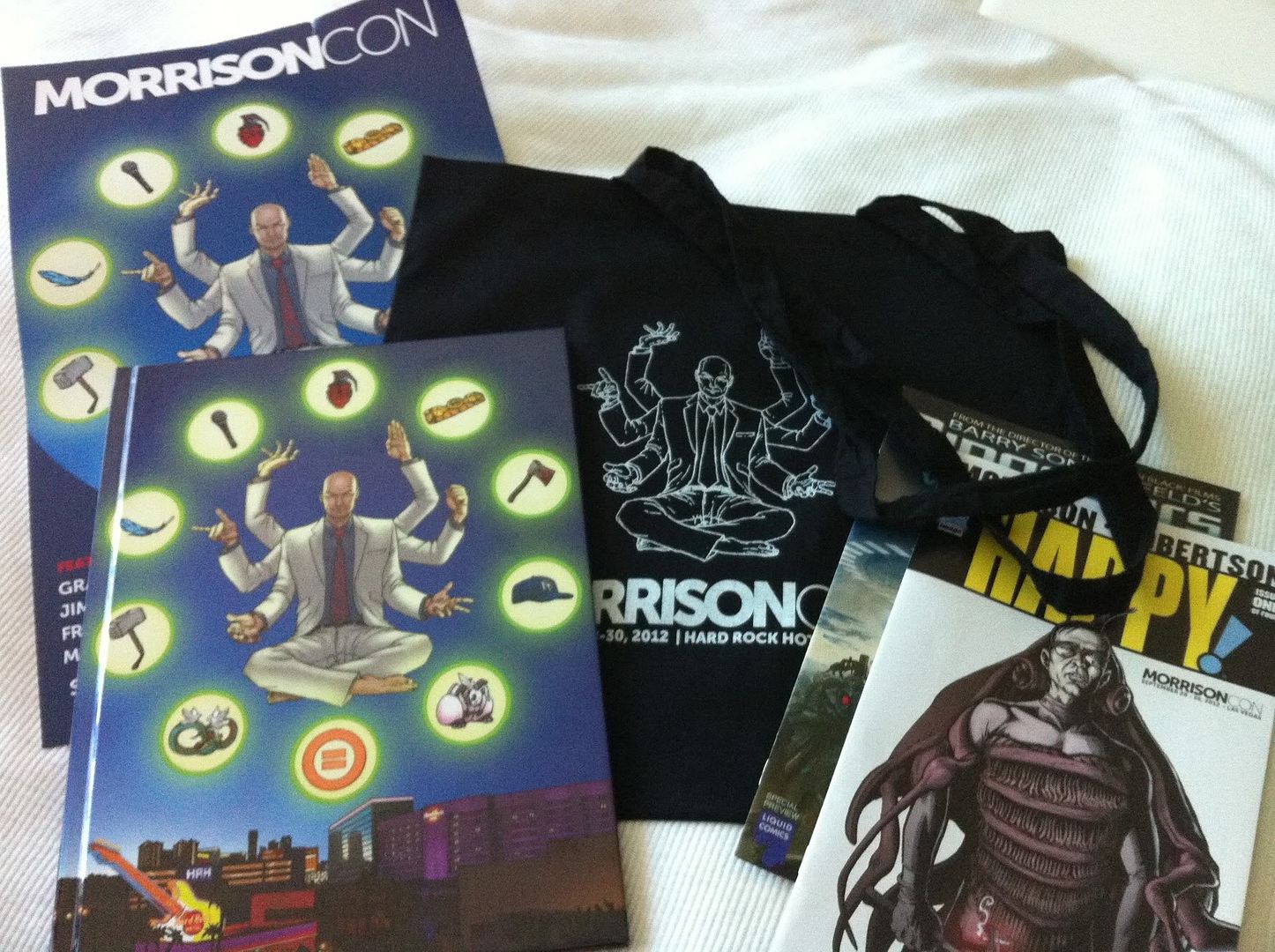 Sunday was a pretty short day for me. My flight back home to New York was at 5pm so I passed on most of the panels. I spent the majority of the time lounging around the, er, Lounge area and checking out/plotting to steal all of the gorgeous art in the Salon. And I was able to sit down with Frank Quitely and a few other fans while he sketched the Flash for my friend Chris. You know, as you do. (squeeeeeeeeeee).
Easily the coolest part of Sunday was the Sketch Jam with Chris Burnham. If you've never seen one of these, they set up a projector so that everyone one can see what the artist is drawing as they're doing it. I've seen them done at other cons before and they're always really cool. Random sketch books (a.k.a. the amazing hard-cover programs for the con) were chosen from the audience and you got to ask for anything you wanted. My book was the last one to be chosen (again, squeeeee). But this being MorrisonCon and the morning after a late night for a lot of people, the sketch requests were a bit out there. For example, Wolverine doing coke off a hooker's butt, new Batman villain Professor Pyg dancing (in a thong and heels), Judge Dredd on the toilet, Grant Morrison as Doctor Who, and Wonder Woman (fresh after killing someone, complete with blood and eyeball splatter). I very nearly asked for Princess Leia strangling Jabba the Hut because Burnham is stellar are drawing disgusting details, but I went with an old iFanboy running gag, Post-Coital Thor.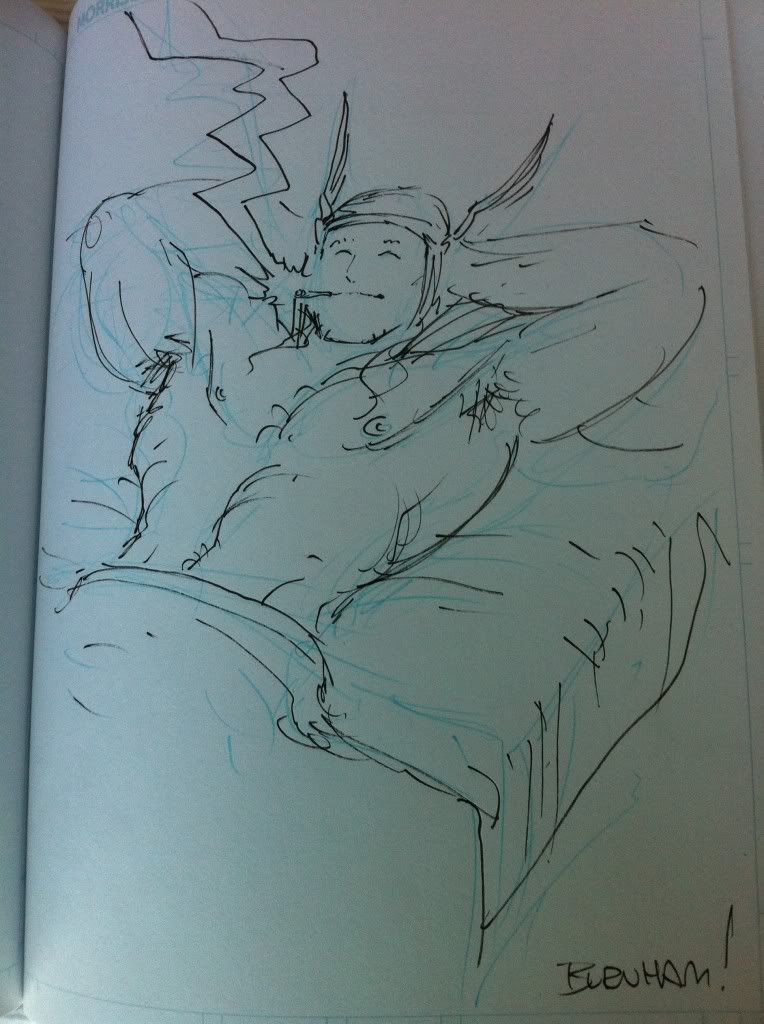 The post-con blues (or connui) hit as soon as I got into the taxi to the airport. MorrisonCon truly was an experience like no other. It was zany and fun and thought-provoking and just plain wonderful. I have no idea if they're doing this next year, or even how they replicate this. But if they do, I am there in a heartbeat.