Med school is super busy, but I was shaken out of my trance of brachial plexuses and leukemias by the stupidity of Cartoon Network executives! Ho hey!
Have we all seen this ridiculousness? If not, for the sake of this blog post, you might want to check it out. (Also, check out the comments, they are GOLD)
To quote the Doctor: What? WHAT?
Are you freaking kidding me? I want to say that I'm surprised, but after the past couple of weeks I've had, the profundity of people's misogyny doesn't really shock me anymore. (One of my colleagues professed how impressed he was with "how nerdy I was" and the depths of my "understanding of nerd fandom." Thanks a lot dude. No one asked you.)
Let me set the scene for you. As I try to put into words how disappointed, hurt, and angry I am, I am sitting at my desk in my room. My room that is littered with Time-Turners, Put-Outers, and a Marauder's Map. Plagued with Thor's hammer, Cap's shield, and Iron Man's arc reactor. Besieged with Batman, Flash, and Wonder Woman action figures. Walls decorated with sketches of Harley and Ivy done at my first ever Con when I was 13 years old.
Yeah, girls don't buy toys at all.
But, you see, I shouldn't have to prove my devotion to comics for anyone to see how wrong the execs at Cartoon Network (or any of those other morons proclaiming the evils of the "fake geek girl"). I shouldn't have to rant and rattle on about how Justice League Unlimited is the best show of all time for my colleagues to understand the depths of my understanding. I shouldn't have to put up a fight every single time.
I'm tired of being a circus freak half the time and non-existent the other half. The problems with nerd culture and women are way more complex—and much deeper rooted—than I can even begin to address in this post, so I'm not going to try. If you need more of an explanation, please refer to the hundreds of feminist blogs that are out there. They all do a better job than I ever could.
What I am going to offer is this: I was nine years old when I was introduced to the world of comic culture. Paul Dini and Bruce Timm's Batman: The Animated Series
was my gateway drug. Years of obsession and devotion followed, but for that one shining moment, it wasn't about who I was going to be and what I would eventually do with my love of superheroes. For that one shining moment, I was nine years old and enthralled with the possibility of endless possibilities. Why is it that executives, administrators, and other fans think that only boys can appreciate that? That only boys are capable of that?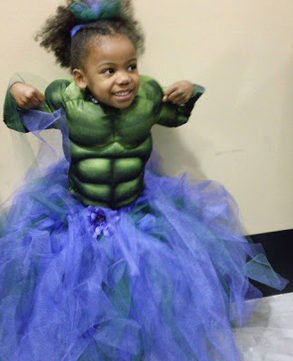 This entire blog is a testament to how wrong they are. Until enough people realize how wrong all of this is, I'm going to continue to do what I do best: be excited by things. Be obsessed with fictional characters and worlds. Inspire young girls to do the same. To be enthralled by the possibility of endless possibilities.
Once in a while, though, I will look like this: