In Q & A, a weekly feature of Fantastic Fangirls, we ask our staff to tackle a simple question — then open the floor to comments.
What's your favorite comic book adaptation of another property?
---
Anika
Star Trek. I could try to explain but it's simpler to say "I'm a huge Trekkie" and post a panel I would literally recite from memory twenty years or so ago: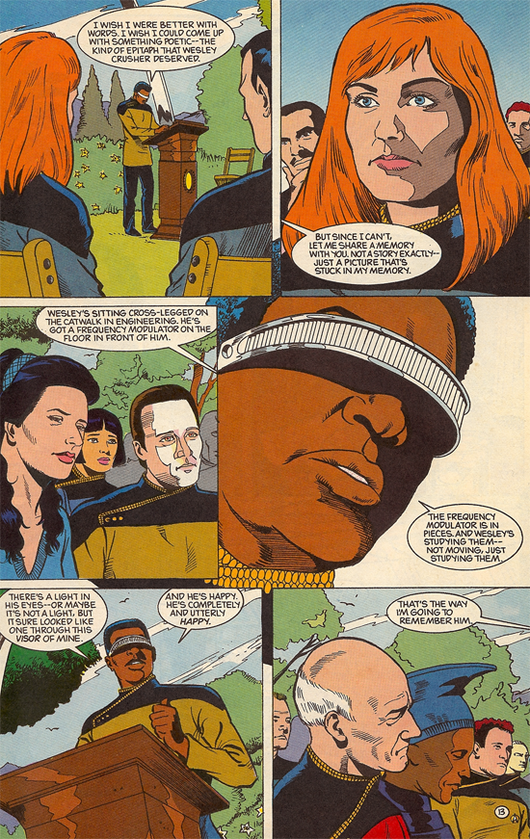 ---
Caroline
I wrote about this book a while ago, while we were covering comics to recommend to new readers. However, it's an equally good candidate for this category: The Escapists, written by Brian K. Vaughan with art by a number of artists including Steve Rolston and Philip Bond. This Dark Horse miniseries may technically be considered an authorized sequel to (or fanfiction about?) Michael Chabon's novel The Amazing Adventures of Kavalier and Clay. In any case, The Escapists takes place in the same universe as Chabon's novel, following the adventures of the comic book creators who attempted to write new comics about the Golden Age character created by the heroes of that book. Unlike a lot of straight "adaptations" of existing properties, Vaughan's series doesn't try to retell the story of the book it's adapting, but gets into its world and plays around with a lot of the same ideas. It's a great comic, providing yet more proof that the worlds of "literary fiction" and of comic books can coexist and enrich each other.
---
Jennifer
This weekend I attempted to watch the film of Neil Young's Greendale, a rock opera/concept album from the early 2000s. I rented the film because I'd loved the comic book adaptation of the story, by Joshua Dysart and Cliff Chiang — loved it so much, in fact, that I chose it for the next Fantastic Fangirls book club. But the source material, as it turns out, is borderline incomprehensible, a loose story told in clunky lyrics and droning vocals that's more political screed than narrative. Having watched the film (which is really just the album playing over some actors lip-synching the roles), I now have an even deeper respect for Dysart and Chiang and the story they managed to wring out of such rough raw materials.
I'll elaborate on my thoughts when we post our next book club, but it's worth saying right now that sometimes, the best adaptation is one that manages to improve upon the original, crafting gold out of straw. Greendale is one of those adaptations, and in its comic book form it tells a beautiful story about family, matrilineal power, politics, war, community, natural and supernatural forces, and a young woman coming of age in 2003. I strongly encourage you to pick up the Greendale comic and read along with our book club (to be posted in mid-April). But unless you're a hardcore Neil Young fan, I wouldn't particularly recommend the album, or the film.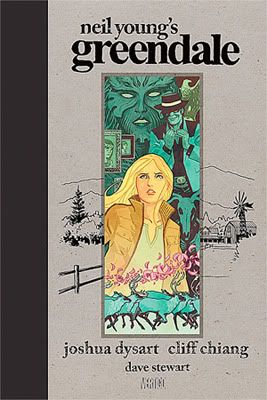 ---
Sigrid
This isn't the most original answer in the world, but my favorite adaptation in a comic book of another work is Midsummer Night's Dream, originally by Shakespeare, as adapted by Neil Gaiman and Charles Vess in the comic Sandman. Scariest, creepiest, most fascinating Puck I've ever seen.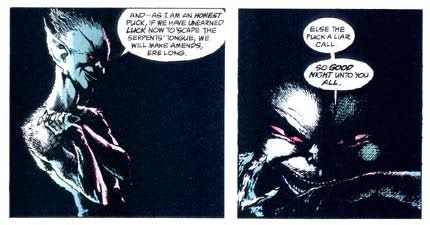 ---
So what about you? What's your favorite comic book adaptation of another property?