In Q & A, a weekly feature of Fantastic Fangirls, we ask our staff to tackle a simple question — then open the floor to comments.
What's one life lesson you learned from comics?
---
CAROLINE
Nobody's an expert on everything.
This is a lesson I learned from reading comics, I suppose, rather than from the comics themselves, since Tony Stark is always there trying to prove this thesis wrong. (He fails in several categories, including diplomacy and intimacy and ethics, but he's trying).
In reality, though, I came into reading comics with the idea that there was an 'in' group of experts who had read and knew everything. Then there was ignorant little me, tiptoeing into the shop and whispering, "I guess there's a Joss Whedon X-Men book or something? Are you going to laugh at me if I try to buy it?"
I can't remember exactly when the lightbulb went off, when I was talking to some longtime X-fan about the storyline I'd just read where Senator Kelly from Days of Future Past reversed his position on Mutant Rights and tried to work for cooperation and Cable was acting as his bodyguard but he got assassinated anyway and it was all very tragic. (Okay, seriously, it was a late-90s X-Men comic. It was kind of dumb.) And whoever this person was gave me a strange look and was like, What are you talking about? For a moment I was actually embarrassed — HOW DARE I KNOW A THING MY MORE KNOWLEDGEABLE FRIEND DIDN'T KNOW? — but then I decided to smile at her, and lean forward, and say, Well, let me tell you about it.
That's a silly story about a silly story, but it represents a lightbulb moment for me about how fandom (and knowledge in general) works. Nobody's read everything, or been every place, or heard every song. Everybody has little pieces of the whole puzzle. So don't feel inadequate because of the things you don't know about, and for God's sake, don't make other people feel bad about what they don't know. Instead, take the chance to share, and teach, and learn from each other.
---
MARIE
One of the biggest life lessons I learned from comics was acknowledging major differences and embracing them for what they are. I could list off a dozen fandoms from X-Men to Saga where themes like tolerance and understanding strike a deep chord with me. I look to these narratives as guidelines on making compromises and building a stronger sense of community. Conversely, I look to see how these narratives deal with with prejudice and bigotry and use them as cautionary examples.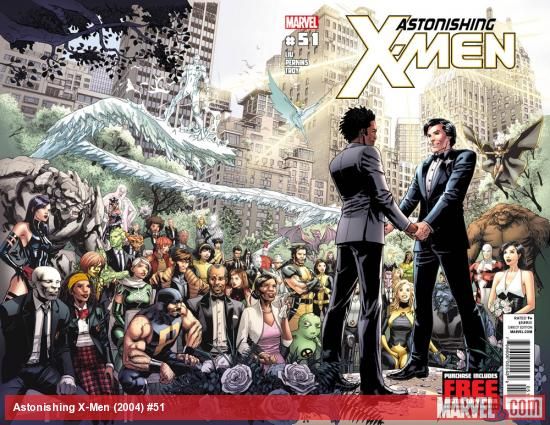 ---
SAM
There's a place for everyone. What I mean is, even if you're the creepy kid with a singularity for a mouth or the last survivor of your planet, you can always find a place to call home and a group of people who will call you friend.
I know, I know, another Young Justice answer/picture from Sam. But it's not just them, I swear! It's Generation X – and all the X-teams, really – and Secret Six and Avengers and even World's Finest. No matter what it is about you that makes you stand out from the crowd, no matter what it is that some people won't accept, there's a team out there for you. Whether it's just one person to wander with, like Green Arrow and Green Lantern, or thirty mutants hanging around with you in Westchester, comics taught me that everyone fits somewhere.
---
So what about you? What's one life lesson you learned from comics?