It's impossible for anyone to read, watch, play, or experience everything media has to offer us these days. This is a space for us to fangirl over something you may have missed.
Do you like video games? Have you always been curious about video games but never known a good game to get started with? Well, have I got a list for you! This is my all-time favorite series of games (sorry, Zelda) ever. It's science fiction, it's epic, it's Mass Effect! And here's why you should give it a shot.
1. The hero is a woman. And she can be a woman of color.
Okay, so Commander Shepard can be either a man or a woman, and her skin tone can range from vampiric pale to pretty dark. And sure, for the first two games, the official art only featured the default white, male Shepard. But trust me, the hero is the lady version. Most importantly, the game doesn't treat her any differently than it treats the male version (except in romances, but we'll get to those later). Nobody bats an eyelash at any of the physical, technological, or mental feats that she pulls off. Nobody questions whether she's a war hero because she's a lady. She's Commander Shepard.
2. The writing is good, and you will care about your compatriots. Also the fate of the galaxy.
So the general plot of the game is you're Commander Shepard and you have to save the galaxy from destruction at the hands of, well. Spoilers. And along the way you meet dozens of allies and enemies, you form teams of people who you interact with, who can become more than just your colleagues.
About 3/4 of the way through the first game, you make a choice that can result in the death of one character. And then a few minutes later you have to do it again. And it's hard. The first time I got there, I paused the game and I really thought about it. Now, after playing through the game with a variety of different outcomes, I can tell you: you feel the loss of those characters later on. You miss them. That's the hallmark of good writing and well-developed characters. Two of my favorite things in fiction.
3. So many possibilities!
BioWare (the company that makes Mass Effect) does this thing in its games where you, as the main character, get to choose your responses to dialogue. They're like cutscenes in most video games, except you choose the outcome. And your choices affect what can happen in the future (mostly). Your choices can also affect who lives and who dies. This isn't limited to the dialogue, but also covers strategic decisions: when to go to a certain planet, whether to bother with smaller side-missions, whether to side with one crew member or another during an argument (or both/neither, if you can).
And while the overall end of the story doesn't change based on the small stuff (though there's a choice at the very end, of course), little things are different with each playthrough. And the little things are why I've put so many hours into this game: after one run through, I cared so much about the characters and the universe that I wanted to see all the possibilities.
And romance all the ladies…
4. Romance!
Romance isn't actually a huge part of the game, despite what Fox News thinks. But it's a good way to connect to the story, since it's a fairly (though not totally) universal experience. Though not as good as another game by the company, Dragon Age II (which lets you romance any character regardless of player character gender), there are several options that are not-straight. Woo. Male same sex relationships weren't added until the third game and I still don't really get why there are gender limitations on some of the characters, but the fact that there are well-developed, touching romance storylines really adds a great depth to an already deep game.
5. The creators care about the fans.
There was a lot of controversy over the original ending of the series. So the creators released DLC (downloadable content) called the Extended Cut that added some scenes… and an entirely new possible ending. I'm still not personally a huge fan of the endings, but I'm not playing the game for the ends. I felt satisfied enough with the Extended Cut.
The real love letter came in the form of another DLC package: Citadel. I don't know how to describe Citadel. If you're a Captain Marvel fan, Citadel is like issue #17 of Captain Marvel. You know, the Carol Corps, love-letter-to-the-fans issue. If you're not a CM fan, it's… well, a love letter to the fans. And it's a joy to play.
6. Cosplay.
If you're into cosplay at all, whether as a participant or a spectator, Mass Effect affords you a lot of opportunities for awesomeness. The moment you see a realistic looking Turian or Quarian walking down the hall is the moment when you know the cosplay within the fandom has hit the next level (Turians and Quarians have bird-like legs). Here's a picture of two actual actors from the game (body and voice, respectively) cosplaying as their actual characters from the game: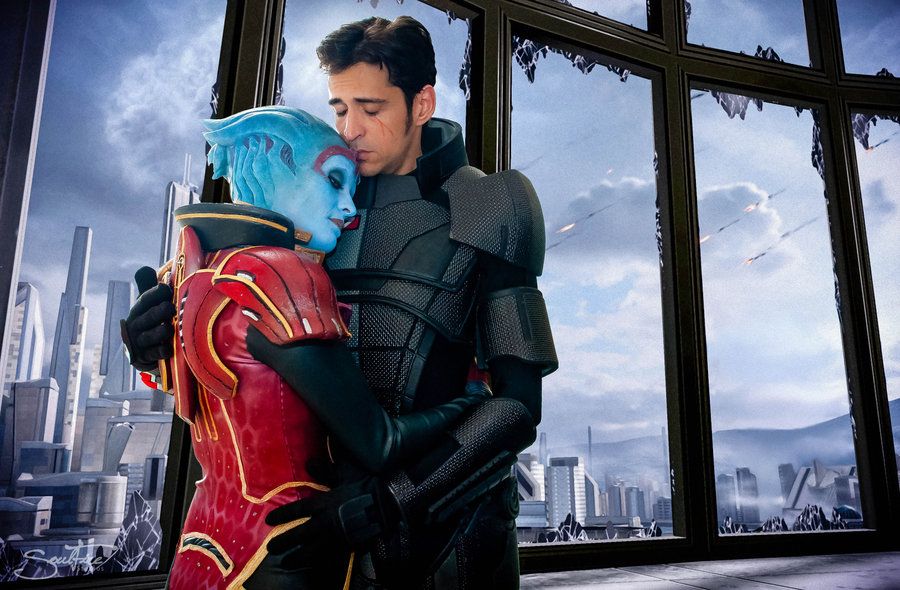 Awesome.
7. The music.
Seriously. Even without the context of the story, this is one of the most touching pieces of music ever. Now imagine three games – that's roughly 30 – 50 hours each (depending on how in-depth you get) full of great music. Enjoy.